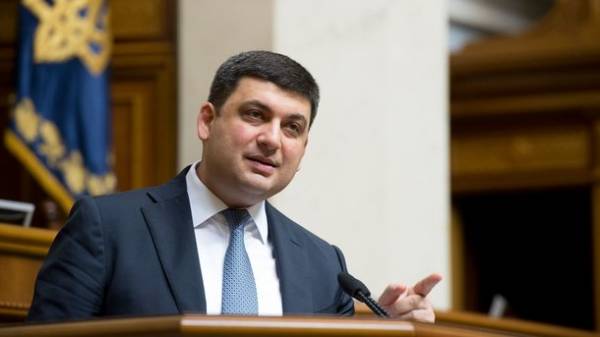 Commenting on the situation around Gosgeonedr, Prime Minister of Ukraine Volodymyr Groysman spoke about the corruption of grosstraktor and shared his attitude toward bribe-takers and so-called"looking". The Prime Minister said in an interview "Лига.net".
"I am the way, very nice when the officials take bribes and put in jail. For me it's the best it can be: to show everyone that nothing gets nothing", – said Groisman.
According to him, the resource of the state Agency "you just have to turn inside out".
"Catch on bribes, "close", assign a high collateral. They have to sit. Three to five to ten people sit, and all will be well", – said the head of Kalimna.
Groisman noted that he had recently been detained the head of the Lugansk regional administration Gosgeokadastra – with the purpose of the Deposit of UAH 1.2 million. "Let him sit," he added.
"Therefore, it is necessary to conduct an audit Gosgeonadzor, then the contest Manager, and to close this case", – concluded Groisman.
In addition, the Prime Minister commented on the topic of so-called"looking" in a particular industry or a state monopoly.
"While I'm Prime Minister, nobody will be looking for the Cabinet of Ministers. Although I do not exclude that in the ministries and state companies, there are those who are trying to parasitize," – said the head of the Cabinet.
Vmenste with Groysman stressed that their responsibilities do not include the identification of those who are trying to "parasite" on government agencies.
"My goal is not that. I don't want anyone to catch. I'm going to have to rebuild the system itself, and to do it quickly. Reform of the Ministry, to get independent leadership in the state campaign through a public contest – now, I think we will come up with new proposals for the selection of candidates, independent Directors, Supervisory boards," he said.
We will remind, last week the NEB had searched the Gosgeonedr for "amber" case.
Comments
comments