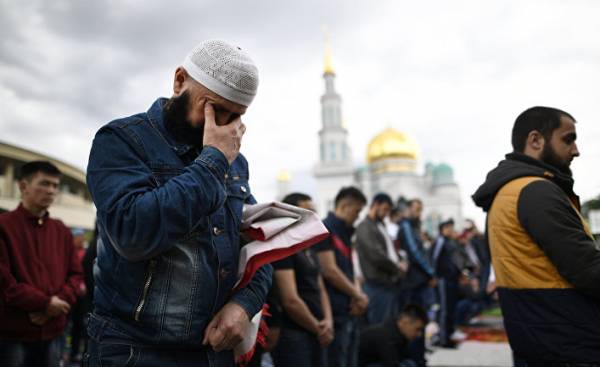 Russian Muslims celebrated last Sunday, the end of the Holy month of Ramadan throughout the country, primarily in the republics of compact residence of Muslim population (Tatarstan, Bashkiria and the North Caucasus republics), but also in Moscow. Great Cathedral mosque in Moscow was overcrowded, and a huge number of believers followed the festal divine services while abroad. The religious ceremony took place without incident in an atmosphere of enhanced security measures.
According to law enforcement officials, in a festive prayer service was attended by more than 250 thousand people, although other sources give much higher figures. Services were held also in three other mosques of Moscow. But no one will remember such a crowded end of Ramadan, as it was yesterday. Authorities ordered to provide unhindered access to a Large Cathedral mosque, which in past years was not observed. Everything points to the fact that in the run-up to presidential elections next year, the head of the state Vladimir Putin wants to win the sympathy of Muslims, the number of which Russia is approximately 25 million with a total population of 146 million people. In Moscow there are about two million Muslims. Shortly before the Russian President with great warmth addressed to the adherents of Orthodoxy (the largest religion in Russia), which he reckons yourself.
Being on the Minbar of the mosque, the Chairman of the Council of Muftis of Russia Ravil Gainutdin congratulated those who "can experience the satisfaction of having managed to keep the fasts" and denounced those who even during Ramadan "can't stop sinning, to sow evil, to shed blood and create destruction", referring to extremists. "This behavior is contrary to the will of Allah", he said.
Vladimir Putin yesterday attended the festive divine services, but sent a congratulatory message, emphasizing "the role of Muslims in maintaining civil peace and accord, strengthening of friendship and understanding between people". Two years ago, Putin visited a Big Cathedral mosque of Moscow, one of the largest in Europe, after its reconstruction. Then he was accompanied by presidents of Turkey and Palestine, Erdogan and Mahmoud Abbas. The Kremlin leader then sharply responded about ISIL, stating that it "denigrates Islam and perverts it, spreading the lie."
Rafael M. Manuel (Rafael M. Mañueco) — Moscow correspondent
Comments
comments