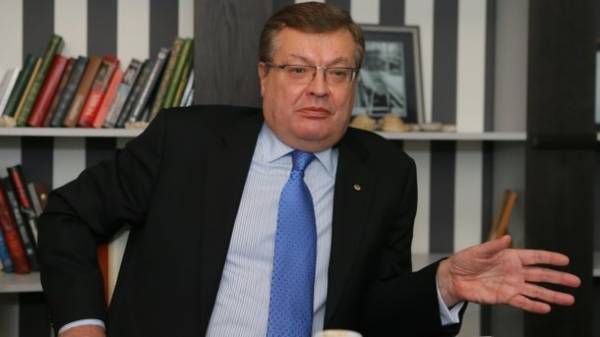 Meeting of President of Ukraine Petro Poroshenko with the President of the United States Donald trump is not a victory, but the beginning of a dialogue between the two countries that need to build. This opinion was expressed by the former Minister of foreign Affairs of Ukraine Konstantin Grishchenko, reports channel "112 Ukraine" .
"It is important that they are met, it is unique. It is important that today something happened that way or another will be submitted as a victory. It's not a victory, it's a start, God forbid, the dialogue that should be built, it is necessary to be based not simply on the desire to apply the success of his visit to Ukraine, because it is not an electoral issue, it is a question of survival of our state. And today seems that it is mainly for domestic political considerations. And this trump is ready to go only partially," he said.
Grishchenko stressed that the proof of his statement is that the presidents of the United States and of Ukraine gave a joint press briefing in the White house. "Picture trump gives, the entity does not promote, not shows because of the fact that two of the President, unlike trump with the President of Panama, did not work in the White house, where they invited journalists and told about the impressions from the meeting, and our President had to go over the fence and on the front of the White house to talk about success without being on the American side have confirmed it, it is evidence that us lot need to work," he said.
We will remind, about 12:00 Kyiv time on June 19 President of Ukraine Petro Poroshenko has left for a two-day working visit to Washington (USA).
Immediately upon arrival the President met with the Ukrainian community, where he said "fantastic program" of the visit. In particular, Poroshenko has informed that Washington will meet with US President Donald trump, the US Secretary of Rex Tillerson, as well as the leadership of the ministries of defense, trade and energy.
Comments
comments