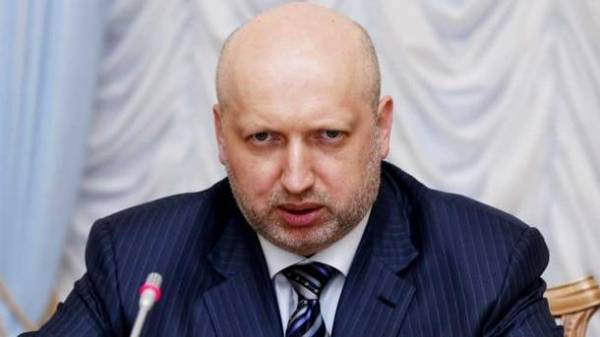 Secretary of the NSDC of Ukraine Oleksandr Turchynov believes that Ukraine should end the military operation in the Donbass, and go to the new format of defending the country against the hybrid war with Russia.
"Hostilities continue in the East of our country for three years and has evolved as the duration and extent of the format of the ATO. At the same time, it should be noted that the anti-terrorist operation carried out a lot of important tasks. It is in the ATO zone, we stopped the aggressor, was able to hold presidential, parliamentary and local elections, and liberated a large part of the occupied territory of Ukraine… At the same time, it is time to move to the new format of the protection of the country", – said Turchinov.
According to him, Ukrainian legislation provides for two basic cases, which allowed the combat use of the Armed Forces is a Declaration of war, and antiterrorist operation. "Despite popular belief, according to our laws, the imposition of martial law implies only the presence of a special legal status in a country or in certain regions, and does not provide an automatic right to the use of the armed forces and other military formations", – said Secretary of the NSDC, adding that the legislation was formed on the basis of ideas of the twentieth century classic on war and ignores the need to confront a hybrid of aggression waged against Ukraine, the Russian Federation.
In this regard, according to him, it's time to define a new format that will effectively protect Ukraine from hybrid methods of war used by Russia against us. "It's time not just to acknowledge some of the occupied regions of Donetsk and Lugansk regions, but clearly, at the legislative level to determine state policy on their release. The need for effective protection of the country, and to do this legally you have to give the President the right to use the armed forces and other military formations against hybrid aggression by Russia", – said Secretary of the NSDC.
He also noted that the need to create permanent in the conflict zone Operational staff with a broad mandate for integrated management of APU, all power structures, and military and civil administrations.
The NSDC Secretary stressed that such an approach "will only strengthen the Foundation of the Minsk agreements, since their implementation is impossible without solving issues of security and without the liberation of the occupied Ukrainian territory."
"This is a very serious issue that needs discussion in the professional expert community. The revised draft law "On restoration of state sovereignty of Ukraine on the temporarily occupied territories of Donetsk and Luhansk regions" will be presented to the President, and then, hopefully, he will be promptly submitted to the Verkhovna Rada", – he said.
Earlier, Alexander Turchinov said that it was necessary to introduce a visa regime with Russia.
Comments
comments