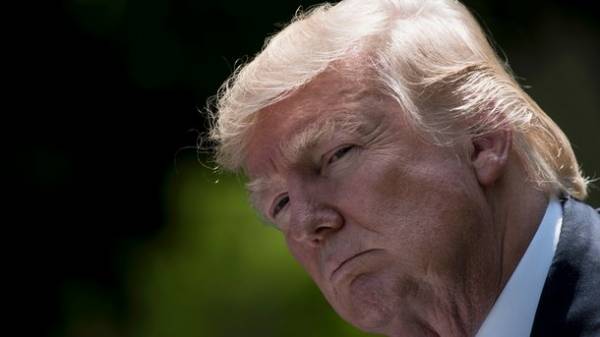 The prosecutors General of the American city of Washington and Maryland have filed a lawsuit against the President of the United States Donald trump, accusing him that he had violated the Constitution, not breaking the connection with the business after the accession to the presidency, reports the associated Press.
According to the Agency, the lawsuit filed in the U.S. state of Maryland. As stated by the attorneys General of Washington and Maryland Karl Racine and Brian Frosch, a lawsuit filed in connection with the fact that trump continues to participate in operations with assets and otherwise "involved" in a business that may be considered a conflict of interest according to the Constitution of the United States.
"Conflicts of interest involving the President threaten our democracy," said foster to reporters after filing a lawsuit. "We cannot accept the continued violations of the Constitution by the President and ignoring the rights of the American people as the new acceptable status quo," he added.
White house spokesman Sean Spicer said that the business interests of the President of the United States Donald trump is not in violation of the Constitution.
"It is easy to conclude that party politics is probably one of the motivations (filing the claim). We will continue to move to end consideration of the claim in working order," he said.
Earlier, the Washington Post reported that prosecutors suspect trump is that he broke anti-corruption articles of the Constitution and "received millions from foreign governments" after the inauguration of the President of the United States. According to the publication, the attorneys General are concerned about the activities of the hotel Trump International Hotel, opened last year near the White house.
Reportedly, the Embassy of Kuwait held an event in this hotel, although initially booked a room at the Four Seasons hotel. Since the inauguration of the trump Saudi Arabia have also booked a hotel room.
This is the first lawsuit of similar content of state structures against the President, concluded the paper. This lawsuit could "open a new front for trump," which has already faced investigation by spectracolor Robert Mueller about the "when" close trump and the Russian government during the presidential campaign of 2016, which deny as the White house and the Kremlin. According to the publication, if a Federal judge accepts the lawsuit, the attorneys General will first require to disclose tax return trump to determine the scope of foreign transactions of its business.
US intelligence agencies had previously accused Russia of trying to influence the election, Russia has repeatedly denied the allegations, press Secretary of Russian President Dmitry Peskov called them "completely unfounded".
Comments
comments