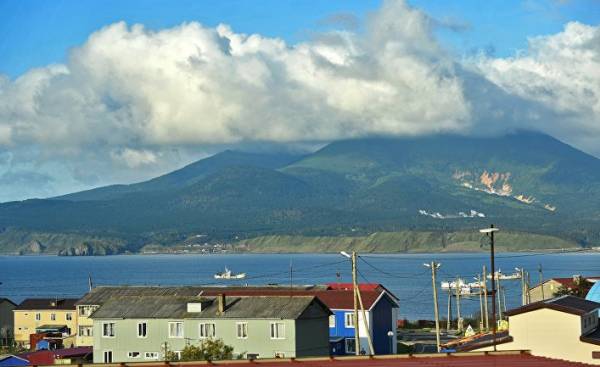 On 7 June, the Russian Ambassador to Japan Afanasyev gave an interview to the newspaper "Mainichi" in the Russian Embassy in Tokyo. Commenting on the joint economic activity on "Northern territories", which this spring began to discuss the government of the Russian Federation and Japan, Afanasiev said: "If both parties to act flexibly, they will be able to find a way of solving".
Before to start joint business activities, the governments of both countries need to approach from the point of view of such legal issues as jurisdiction and justice in the South Kuril Islands. The Ambassador expressed the view that consultations should facilitate an agreement.
As for the legal regime of joint economic activities, in autumn last year Russia has stressed that it needs to be based on Russian laws, but at present, Moscow takes the following position: activities must not violate Russian laws.
Commenting on the difference in the statements, Mr. Afanasiev was limited to the phrase that diplomacy important nuances. In his opinion, if carried out intergovernmental consultations, there were various options for the legal structure.
The governments of Russia and Japan develop the practice of sharing the VIP seats during cultural events. Afanasiev noted that the number three in the Russian government, first Deputy Prime Minister Igor Shuvalov to take part in the Festival of Russian culture, which will be held in Japan in July.
The governments of Japan and Russia are preparing to hold a meeting of the Russian-Japanese intergovernmental Committee, which is headed by Shuvalov and foreign Minister Fumio Kishida (Fumio Kishida), as well as meetings with Shuvalov, Minister of economy of Japan, Hiroshige Seko (Seko Hiroshige), which is also responsible for economic cooperation with Russia.
In addition, Russia and Japan planned cultural activities for may and December, which will be held in Moscow and Tokyo respectively. "The heads of countries it is customary to take part in the events that take place in other countries, so I do not exclude such a possibility between Russia and Japan," said Afanasiev, noting the opportunity to discuss mutual visits of President Putin and Prime Minister Abe.
As for North Korea, which does not stop nuclear and missile tests, Afanasiev said: "I am opposed to the Korean Peninsula and the DPRK had nuclear weapons. However, the sanctions of the DPRK responds with rocket launches. This vicious circle must be broken."
According to the Russian Ambassador, nuclear disarmament of the Korean Peninsula cannot be restricted to the six party talks. It is necessary that the United States and Japan also sought to dialogue with the DPRK.
Commenting on the fact that Russia is suspected of meddling in last year's U.S. presidential election, Afanasiev said that the Kremlin has no possibility to influence elections in such a large country as the United States. He stressed that the stagnation in Russian-American relations should not hinder the expansion of relations between Russia and Japan.
Comments
comments