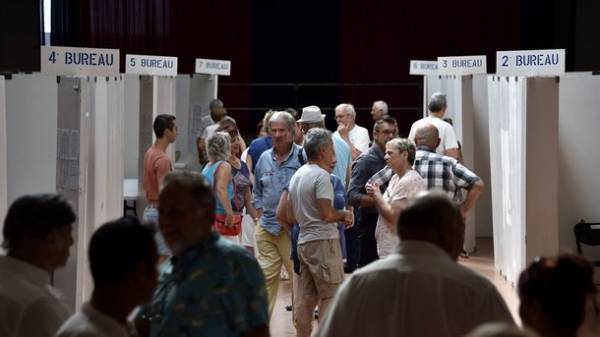 French satirical weekly Charlie Hebdo on Sunday has published on its website a cartoon on extending the country's parliamentary elections, the turnout for which will probably be the lowest in the entire history of the Fifth Republic.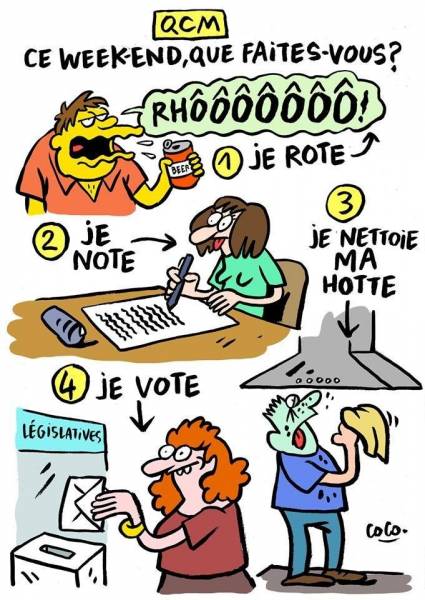 "What are you doing this weekend?" is the title of a drawing, which shows four forms of leisure.
"I burp", — said the painted young man, holding a can of beer.
Another character — a girl — said that "taking notes". The third picture depicted a wrinkled man, recognizing that "clears the hood".
And finally, the fourth character — a red-haired woman lowered into the ballot box the envelope with the name of the candidate, says: "I vote".
Start voting in the first round of parliamentary elections in France was given at 08.00 a.m. Paris time (09.00 CET). In most of the settlements polling stations remained open until 18.00 local time. However, in some large cities the opportunity to vote, citizens have been left to 20.00.
According to numerous estimates, the final turnout in these elections may be record low. At 17.00 it amounted to 40.75%, which is almost eight percentage points less than in the first round of the previous parliamentary elections in 2012 (48,31%).
According to the study of public opinion poll Elabe for the TV channel BFM TV, at the time the polls closed, the turnout will be 49.5 per cent. In 2012, she was 57,22%.
The number of candidates participating in the parliamentary elections of 2017, is 7 thousand and 882 people. Of them members of the National Assembly (the lower house of French Parliament) will be 577.
Comments
comments