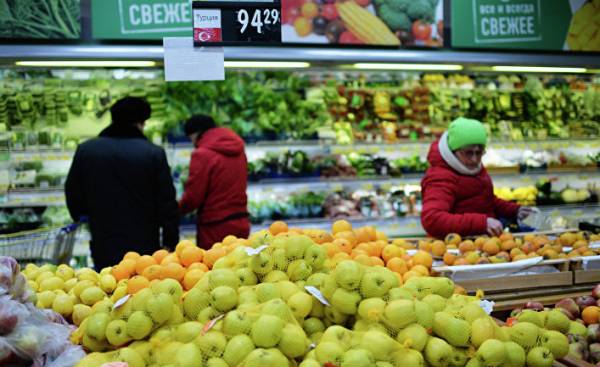 Vladimir Putin's visit to France sparked hope among farmers in lifting the embargo, which was imposed by Russia in response to international sanctions. C 2014 embargo has hit hard a large number of food products. The list includes pork, dairy products, fruits and vegetables imported from the EU, particularly from France. The damage is estimated at 8.1 billion euros. "Despite the fact that France has never been among the main suppliers of agricultural products — it is ahead of Germany, the Netherlands and Poland — return of these products to the European markets led to falling prices," says Philip Chalmin (Philippe Chalmin), Professor of Economics at the University of Paris-Dolphin.
In France from the sanctions most of all affected producers of pork, milk, fruits and vegetables.
"Fortunately, China partially opened her market for products, but for the first two years of the embargo, the industry suffered serious losses," said Paul Offre (Paul Auffray), Chairman of the French Federation of pork producers (FNP). In 2014-2016, this led to a decrease in the price per pig by more than 20 centimes, and total loss of livestock amounted to more than 500 million euros. However during the year these losses were partially offset by high demand from China and raise the price of pork by 20%.
A side effect of the embargo was the development of animal husbandry in Russia. "We know from our pool of professional sources that Russia is trying to make up for the shortage of pork, in developing their own production based on industrial models," adds Paul Offre. "The Russians began to develop their dairy sector in France. Some even brought meblarskich cows," says andré Bonnard (André Bonnard), General Secretary of the National milk producers Federation. The embargo led to surplus production in Europe in the amount of 300 thousand tons of cheese, which was intended to be sold on a single market, which led to falling prices.
Price reduction 50%
Even more it touched vegetables and fruits. "The day after the announcement of the embargo, the price has fallen by half," says Luc Barbier (Luc Barbier), President of the National Federation of fruit producers. Take the apples. "France, which exported 2.5% of its products to Russia, were able to partially compensate for the lost volume at the expense of sales in other markets, e.g. in Asia. But the flow of Polish apples has brought down the prices never returned to the level of 2014," adds Daniel Avatr (Daniel Sauvaitre), President of the National Association of producers of apples and pears.
Nature abhors a vacuum. On the Russian market a new supplier countries. Belarus exports of almost all dairy products to Russia. The misery of some makes others happy. Some French producers rejoice that their company has a presence in countries bordering Russia.
Comments
comments