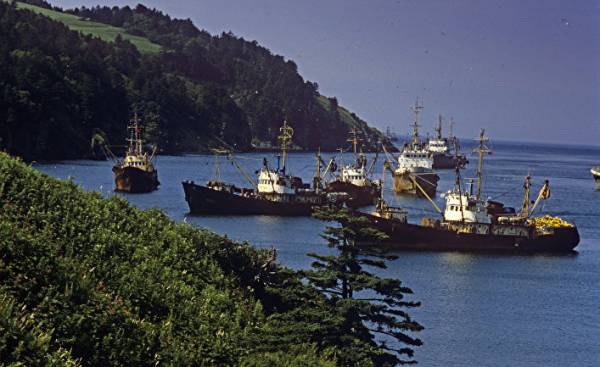 The beginning of a joint economic activity on "Northern territories", which was agreed by President Putin and Prime Minister of Japan Shinzo Abe during a meeting in Yamaguchi Prefecture in December last year. It is expected that the study group of officials and businessmen, which Prime Minister Abe has positioned as a first step, will go in the second half of June. Spheres of Russian-Japanese cooperation is becoming clearer.
However, with regard to the "special system", which is a prerequisite for joint business activity, consultation will not be smooth, as to this issue is the matter of sovereignty.
The government of Japan will send on the Sakhalin delegation of 30 people led by the assistant to the Prime Minister eiichi Hasegawa (Hasegawa Eiichi). The group will be on island from 30 may to 1 June. According to Mr. Hasegawa, you need to see everything with your own eyes. The delegation included experts in the field of fishing industry, tourism and medicine. They will hold talks with the Sakhalin oblast administration.
It is also planned that the parties will exchange opinions on specific projects, which were proposed by Russia and Japan during the consultations at the level of Deputy foreign Ministers, held in March, and will discuss the studies on the four Northern Islands.
Meanwhile, in order to start a joint activity, it is necessary to determine in advance the tax regime and legislation, which will apply to joint projects. If based on the laws of Russia, which effectively controls the "Northern territories", this would mean that Japan recognizes Russian sovereignty, it is therefore necessary to prepare a "special system", which will not question the legal positions of both sides.
According to the government of Japan, the risk is that in the event of incidents in the course of joint business activity, the Russian side will fully control the actions. Despite this, Japan went into a joint activity, since the Putin administration rejects direct talks on the territories, declaring that the four Northern Islands is a territory of Russia. As a result, the problem of "Northern territories" does not move from a dead point.
The Japanese foreign Ministry notes that because now we have to discuss the "special system," Russia will have to address the issue of justice. The government of Japan intends to use the "special system" as a springboard for the development of negotiations on the signing of the peace Treaty, including the problem of "Northern territories".
Comments
comments