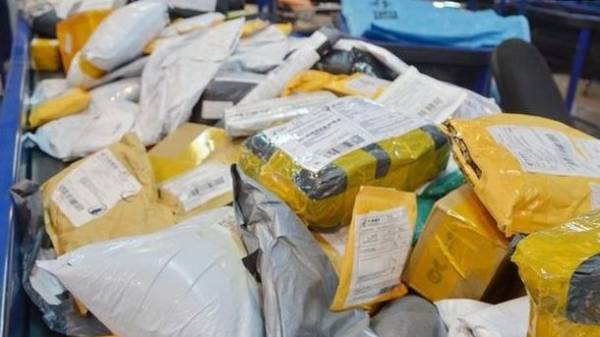 The restriction on imports into Ukraine of products of famous brands purchased in the foreign Internet-stores, occurs only at the request of owners or their representatives. This was stated by the Director of the Department of organization of customs control Gospitalniy service (GFS), Alexey Vasilenko, the press service of the government.
"These limits apply only in the case if products are counterfeit, or if its origin failed to be installed", – said Vasilenko.
He stressed that in accordance with the Customs Code of Ukraine, all receipts are checked, and the rights holder will have the opportunity to determine whether this product is original.
"In the case of the establishment of the counterfeit product does not fall into the customs territory of Ukraine. But in the absence of violations of intellectual property rights, the right holder shall notify the customs office about the possibility of restoring the customs clearance of such goods. In most cases, is exactly what happens, and buyers receive their goods. This procedure is used in Ukraine for a long time. On the one hand it protects the rights of consumers to quality of original product, on the other hand are protected by the copyright of the manufacturer, " – said the representative of the SFS.
Vasilenko, categorically denied the information that the customs have been instructed to prohibit individuals import to Ukraine of goods, trademark rights which are declared in the custom registry.
"This is not true, because customs offices such instructions, either orally or in writing from the DFS have been reported," – said Vasilenko.
According to media reports, the list of brands that have stopped flowing custom, includes brand clothes, cigarettes, cars, appliances, electronics, alcohol, perfumes, etc., including: Adidas, Amway, Apple, Canon, Chanel, Chesterfield, Chevrolet, Chivas, Christian Dior, Coca-Cola, Contex, Dormeo, Electrolux, Lego, Levi's, LG, Lipton, Honda, HP, Meizu, Mercedes Benz, New Balance, Nivea, Nokia, Opel, PlayStation, Redmond, Samsung, Sandora, Shell, Subaru, Xerox, Xiaomi, etc.
In addition, it was reported that customs will not allow to Ukraine parcels of Meizu. It was stated that the problem is the repeated written requests of the copyright holder Meizu in GFS.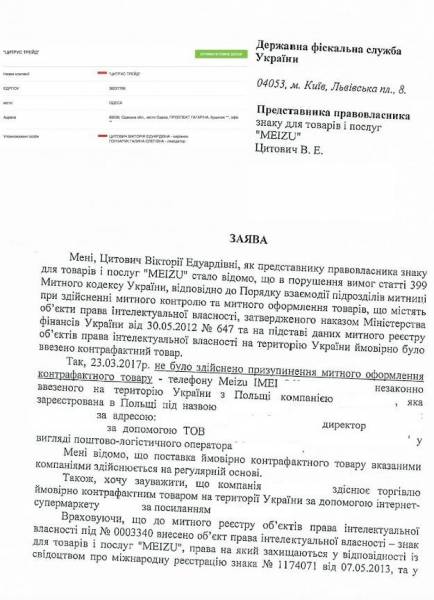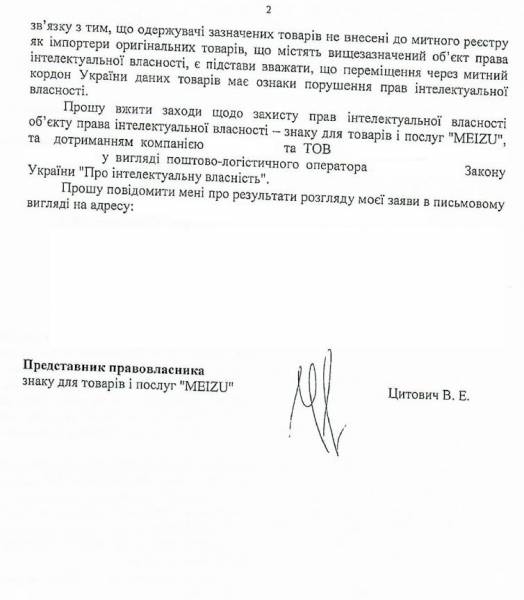 According to unofficial data, in connection with inspections of parcels last week "New mail" complained about mass inspections of international shipments. Then, it was reported that customs officers opened the parcel, however, the exact cause is not known.
This legal approach is associated with exhaustion of trademark rights. So, the manufacturer of the goods under own trade mark loses the right to commercial operation after the first sale. In this sense, the rights of the owner of the trademark are exhausted.
But international trade discrepancies appear. Some countries consider that the importer (buyer) of goods for import into their country to confirm the manufacturer the right to sell it. It's called national principle of exhaustion of rights. If you do not needed is an international approach. Today, in our legislation the principle of exhaustion of rights not clearly established.
Comments
comments