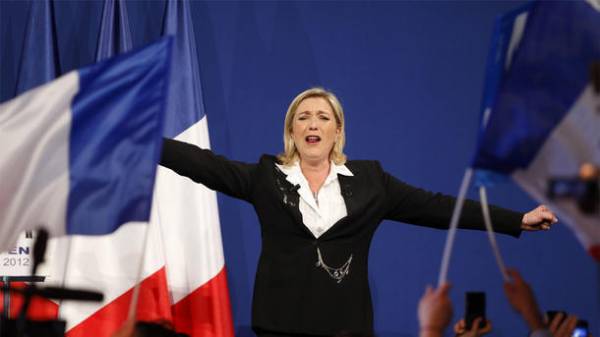 French politician marine Le Pen is pleased to the arrival in France of Russian President Vladimir Putin believes Russia is a great country, and it is necessary to improve relations. She stated this in an interview with radio station RTL, reports TASS.
In her opinion, the Russian leader's visit to France will improve relations between the two countries.
"I'm glad that Vladimir Putin will accept in France, and that this approach meets the need to improve relations between the two countries. Russia is a great country, no matter approve someone or not a particular aspect of internal events in Russia, " – said Le Pen.
She explained that in the first place the cooperation of France with Russia and the United States will effectively combat global terrorism.
"The main thing is that France should cooperate with Russia, and the United States in order to fight against Islamic radicalism – this giant challenge to the international community. To fight against this great danger that is hanging over France and other countries, as evidenced by the recent terrorist attacks in Manchester and Egypt. In this regard, the forthcoming negotiations of the President of France Emmanuel Makron with Russian President Vladimir Putin – is a positive phenomenon," – said Le Pen.
As you know, today Putin is to meet with the Macron. So, the Russian presidential aide Yuri Ushakov said that the leaders will discuss Ukraine.
It was reported that the macron commended his American counterpart Donald trump, but compared to Vladimir Putin, he said that he respects him, but in the negotiations he will be demanding a dialogue to Russia.
Comments
comments