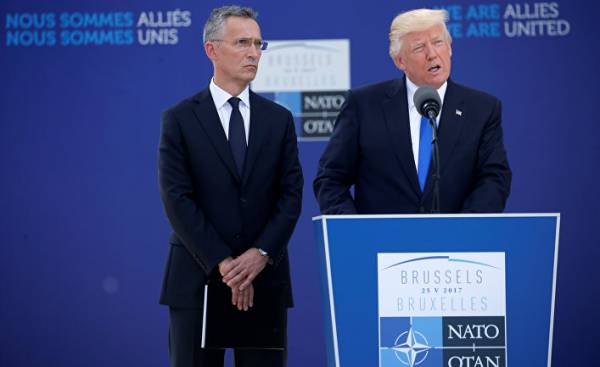 Thank you, Secretary General Stoltenberg! Thank you, Chancellor Merkel!
Other heads of States and governments! To be here with representatives of the countries-members of the Alliance, which promote the strengthening of peace and security in the world, is a great honor for me.
The Prime Minister may! All the countries whose representatives are present here today, mourn with you and Express you my solidarity.
I would like to ask you all to observe a minute of silence for the victims of the terrible terrorist attack that took place in Manchester and to support their relatives.
(Moment of silence)
Thank you. Horrible experience!
Today's ceremony is a tribute to and demonstration of our perseverance and determination. We remember and grieve for the almost three thousand innocent people who were brutally murdered by terrorists on September 11, 2001. Our NATO partners reacted instantly and decisively, for the first time in the history of the Alliance to fulfill its obligations in accordance with the provisions of the Fifth article of collective security.
The recent terrorist attack in British Manchester demonstrates how a great evil for us is the terrorism with which we are faced. Innocent girls and many other people were brutally killed and seriously injured during a concert. Had ruined the beautiful life of people who had huge opportunities. These people were chosen from relatives, snatched from the family forever. It was barbaric, vicious and cruel attack on our civilization.
All people who love life and value it, must unite in order to identify, expose and expel these murderers and extremists, those, Yes, losers. They're losers. Wherever they were in our society, we need to kick them and not allow them to return to do so that they never came back.
This call for the destruction of terrorism was the message which I addressed to the participants of the historic meeting of the heads of Arab countries and Muslim leaders of the region, which was held in Saudi Arabia. During this meeting, I talked a lot with king Salman — a wise man who wants a substantial and rapid improvement. The leaders of middle Eastern countries during this unprecedented meeting agreed to stop funding radical ideology that leads to this terrible terrorism throughout the world.
My trips and meetings gave me the hope that countries with different fates can come together to fight terrorism — the looming threat to all mankind. Terrorism must be stopped immediately. Otherwise the nightmare that happened in Manchester and in many other places, will last forever.
Thousands and thousands of people flock to our country and are leaving for their territory, and in many cases we have no idea who these people are. We must be persistent, strong and vigilant.
In the future, NATO must focus great attention on issues of terrorism and immigration, as well as on the threats from Russia and the Eastern and southern borders of the Alliance. Due to serious concerns about the security issues I'm very honest with Secretary General Stoltenberg and member countries of the Alliance, saying that NATO needs in the end to pay part of the cost and to meet its financial obligations. Since 23 of the 28 countries-members of the Alliance continue to not pay into the extent to which, and not allocate those funds that they must set aside their defense and security.
It's not fair to the people and taxpayers of the United States. And many of these countries owe for last years huge amount since it was not paid in those previous years. Over the past eight years the US has spent on defence needs more money than all other NATO countries combined. If last year all the countries of the Alliance contributed to the defense of only 2% of their GDP, now we would have an additional 119 billion for collective defence and for funding of additional reserves of NATO.
We must recognize that against the background of a chronic shortfall of payments and growing threats, even those 2% of GDP will be insufficient to reduce the backlog in areas such as modernization, readiness and size of the armed forces. We have to catch up on many lost years. 2% is the least that is necessary in order to confront modern real and very scary threats. If NATO countries contributed in full, NATO would have been even stronger than today, especially in the protection from the threat of terrorism.
I would like to Express my appreciation to the National memorial and Museum of September 11 in new York for what he contributed and gave here a fragment of the North tower, as well as Chancellor Merkel and the people of Germany for what they gave to this fragment of the Berlin wall. Really logical and appropriate that these two artifacts are now here in the new headquarters of NATO so close to each other. And I never asked how much cost the construction of this new headquarters. I don't want to do it. But it's beautiful.
Each of them marks a major event in the history of this Alliance in the eternal struggle between good and evil. On one side we see the evidence of the victory of our ideals over the totalitarian Communist ideology aimed at the oppression of millions of people. And on the other side — a painful reminder of the barbarity, the evil that still exists in the world and with which we must deal. And win together as a group, as the world.
This pile of twisted metal reminds us not only that we lost, but that there is always about courage of our people, of our unflinching resolve and our commitments that unite us into one.
We will never forget those we lost. We will never leave friends who supported us. And we will never retreat, will not give up the resolute struggle against terrorism, from the desire for security, prosperity and peace.
Thank you. To be here for me is a great honor.
Comments
comments