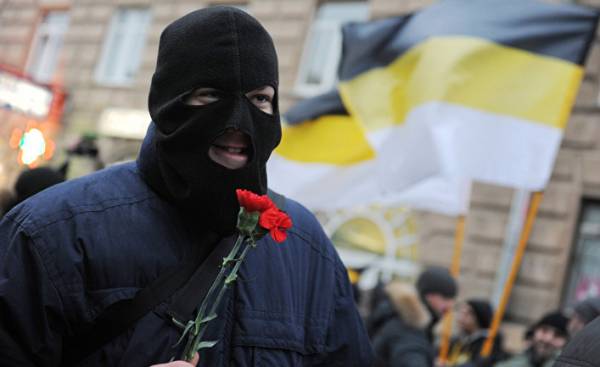 Self-discipline is a virtue. Weakness worthy of contempt
On the Moscow river twenty year old Russian guy, a mountain of muscle, demonstrates in front of the camera, which barely works in the cold, your tattoos with the German state eagle.
The temperature is minus 30, the authorities urged Muscovites not to go out.
Ascetic group Method "Santa Claus" came on the river to promote "healthy lifestyles and healthy attitudes". No Smoking, no alcohol, the fight against modern decay. Caring for the family and the nation.
This lifestyle should be disseminated through a video that they do with White Rex, a Russian brand that is loved all right-wing extremists-lovers of mixed martial arts worldwide.
His feet freeze on the ice.
For these people, pain is something transient. Honor is eternal.
For the brand White Rex is Denis Nikitin, a former Russian skinhead, who became a mixed martial arts fighter and entrepreneur.
Nikitin rarely gives interviews but made an exception for VG after a "thorough inspection."
"If I don't like the pictures, I will try to come to you on a visit," says the broad-shouldered fighter of the mixed single combats in perfect English.
On his face there is some semblance of a smile, and we don't know he was joking or meant it.
According to experts, the company Nikitin has a network of offices in other countries. Several times he visited right-wing extremist groups in Western Europe.
"The media documented that he was hired as an instructor in close combat in Wales and Switzerland, and he was doing ideological reports," says researcher of the Department of literature, the study of geographical areas and European languages (ILOS) University of Oslo Johannes Dua Enstad (Johannes Due Engstad).
"White Rex, except that it is a clothing brand, is also the organization that organizes tournaments on the mixed single combats in Russia and other countries. Judging by the video and by the fact that they participated in tournaments in other European countries, we can say that it is a successful business", — says the researcher.
A number of representatives of the movement in Europe did the growth of right-wing extremism as a source of its existence.
Right-wing populism has become a "brand", brand name merchandise, according to the Swede Fredrik Hagberg (Fredrik Hagberg), a member of the network of shops selling fashionable clothes aimed at the nationalists.
German Thor Steinar, Italian European Brotherhood and Polish Red is Bad are the biggest clothing brands nationalists of Europe.
And on the Moscow river Denys Nikitin says that he employs five or six employees, he has traveled the world and maintains contact with people in several countries, including in Scandinavia.
In his blog, he reports that he underwent surgery on a damaged shoulder in Germany, and that the recovery period he spent on the Greek island.
He was opposed to labels of "right wing extremist" and "neo-Nazi" and considers himself a "nationalist."
"In the West, the nationalists say that "I'm not racist, but…" I don't particularly like. They should fight for what they believe. I strive to make people again proud to say that they are nationalists".
On the websites of the White Rex says that Europeans have lost their "warrior spirit" under the influence "foreign propaganda".
Under the slogan "the company is aggressive clothes" the firm considers its main task to "revive the spirit".
"I have ten years in Europe: in Germany, Holland and Ireland. Gradually I began to understand the idea of nationalism. I started to ask myself why the white man is depressed, and realized that something was completely wrong. Since the right was pushed out of politics, they had to Express their resistance, leaving the streets and beating of migrants. It was the only way to protest", — said Nikitin.
At the beginning of the two thousandth, he was a member of a gang of skinheads.
"But I realized it was the wrong way. Many of my friends were in prison or in the grave. Victims are not led to anything, and the number of arriving migrants all grew and grew. I realized that we can kill ten, in their place will come thousands. It was my way of skinheads," he says.
In Germany, he had purchased clothes under the brand Thor Steinar, which is willing to wear the neo-Nazis and extreme right, and sold it in Russia.
"I have noticed that the demand was great, and I thought, why not to try?"
He soon left his study international business and devoted all his company.
"Not everything worked immediately, but I knew what customers need. The market was filled with clothes with the image of runes and Nordic symbols. As for me, I like the idea of the crusaders, I think White Rex Crusader. The crusaders gathered the people of different origin in one common cause. They were pragmatic soldiers with a common purpose to defeat the enemy. It's not the uniform, he explains. — Can you not see the swastika or runes. It must be the clothes in which people feel comfortable on city streets, and through which they can get to know each other."
The characteristic features of the White Rex and clothing of this brand is, however, the glorification of violence and a hidden right-wing extremist symbols.
The company was founded on August 14, 2008 (14.08.08). Figure 14 was chosen, it means "the fourteen words" (fourteen words). Here are the words: We must secure the existence of our people and a future for White children ("We must secure the existence of our people and a future for white children"). This phrase belongs to the right-wing extremist writer and killer David lane (David Lane) and used by white nationalists.
The digit 8 symbolizes the eighth buck (Latin) alphabet is H, 88 is Heil Hitler. Tank top for girls received the name Bombs 88 (88 bombs). In addition, the company's logo is the head of a Viking in the background joined together of the swastika and the solar cross.
International online store sells t-shirts with the image of swallows, holding in the beak of the German iron cross is a symbol of supporters of white power.
This clothes have slogans such as Zero tolerance (zero tolerance), True till death ("faithful until death"), Ultraviolence ("ultra violence"), Regnum in terrorem ("the power of deterrence") and Don't stop european reconquista ("don't stop the European Reconquista").
"Glory to the Russian weapon in the fight against heretics" is another slogan on clothing, this slogan refers to the Russo-Turkish war. There is also mention of the Spanish Civil war and the Vikings and the symbols of the crusaders, Italian fascism and German medieval knights.
There is a picture called Commie hunting club ("club hunters Communists"). There's another showing of angry white people chasing Muslims: Angry Europeans — White Rex against tolerance ("angry Europeans — White Rex vs tolerance").
Last summer, Nikitin went to France, together with the Russian hooligans fight with English football fans, he says.
Photos from Marcel's show the bullies in the clothing label White Rex.
He also said that during the revolution on the Maidan, he went to Kiev in order "to see what is happening, because the Russian media do not give a truthful message".
"Russia will be the same. Russian society will soon collapse. The only way to change something is building on the ruins," he says. He adds that the right is the sleeper hero of Russia.
"These are people who are engaged in regular work, but if there will be anything like what happened in Ukraine, they will all be on the streets. They're ready. We expect the arrival of the revolution. Many will drop everything if they think it will lead to real change."
Denis Nikitin despises Vladimir Putin. Active right-wing extremists in the US and Europe, who admire the Russian President, capital mistaken, he said.
"Sometimes I read Facebook foreign friends who think they are smart and send shares to "alternative news", but they just fell for Putin's propaganda. The regime is actively trying to influence the nationalists of Europe, and he did it. The only thing good about Putin is that he is against the gay parade. And so it is generally not a nationalist. Nationalists persecute, instead of prosecute crime bosses. If a Caucasian commits a crime in Moscow, he can just go to his to Chechnya and to live peacefully there. For the Chechens special treatment in the Caucasus invested a lot of money, while just 200 kilometers from Moscow, you can see the village in ruins. Why not invest the money in their own country?" — said Nikitin.
Eye Nikitin visible scar.
"I got hit by the shrapnel of the explosion of the machine. I was then seven needed stitches".
VG: Wow, how did this happen?

"The car exploded as soon as I turn the ignition on".
"A nice neo-Nazi" — so the German media called Patrick Schroeder (Patrick Schröder).
Weekly TV and radio programmes with whom he plays online, he performs music in the styles of nazi-rock, hatecore and NSBM — National Socialist Black Metal.
Sometimes programs appear to have such leaders of the Nazi party the NPD, as a supporter of tough political course Pasters Udo (Udo Pastörs) and the leader of the party, Frank Franz (Frank Franz).
"We're trying to get to "normal" people up to 25 years of Berlin. Need to know what the young people lives. This is important. Politics is only part of our whole package".
Schrader and his partners with private individuals willingly misleading the Nazis-news and raise relevant topics like migration crisis and the US election. But above all, we are talking about that is easy and entertaining to talk about his "main political positions" under the slogan: Hören macht frei ("Look and release").
On the wall hangs a map of Germany in 1937. In early gear shredder appeared in a baseball cap with the inscription HKN KRZ — consonants from the word "swastika".
"Right before lived in his own world, but we're trying to change something. Young people interested not only in politics. We criticize our own right because we are talking to leading media and use English words. But you can't rely solely on right-wing, in this case, we will not be able to attract others."
Experts point to the fact that neo-Nazis today have become more smooth and neatly groomed, they are more subtly promote their ideas on social networks.
"Every Sunday when we do shows, the security police directs the patrol, which is worth watching for a place of our Parking lot, to find out if my car. They are willing to do anything to lead us surveillance. It would be an honor. This means that we achieved what we wanted. We are the enemies of the system, they fear us and do not want us to have more. If it was not, it would mean that no matter what we do."
Early skinhead culture was typical of right-wing views. Today this manifestation is the clothes. This is a new way to demonstrate resistance, says the Swede Fredrik Hagberg (Fredrik Hagberg).
The leader of right-wing extremist organization Nordisk Ungdom (Northern youth) works in the Internet-shops selling fashionable clothes aimed at the nationalists.
They sell the German clothing brand Thor Steinar, Italian European Brotherhood and Polish Red is Bad.
According to Hagberg, the turnover of the online store has grown significantly in 2016.
"The clothes are so modest that many put it to work or for a walk around the city. You show cautiously, but nonetheless clearly — do you like Nordic culture. You are the person that shows, "Here I am. And I care about my country"".
Its market is primarily Scandinavia. But in the USA also show a growing interest in the clothing brand Thor Steinar.
Their first logo was the same rune that was used by parts of the Waffen SS during the Second world war.
The manufacturer justified the use of this symbol is a tribute to the glorious historical past of Norway. Many sweaters and jackets this company has pictures of the Norwegian flag among the names of the models — Trondheim, Nordfjord, Nordstrand or Bergen.
This brand of clothing in 2012, opened in Germany a shop called Brevik. As a result, in different countries there are names that are often associated with the name Anders Behring Breivik (Anders Behring Breivik).
"The head of policy was a Nazi cap," wrote a year later, Swedish newspaper Aftonbladet. The store of purchase Hagberg did Robert Stenquist (Robert Stenkvist), the representative of the "Swedish Democrats".
"I think that today hardly someone will write about it. These clothes became mainstream," says Hagberg.
It was a response of Russian right-wing extremists (Norwegian) Fotballfrue.
Website Inna the Bunina (27 years) in Instagram was visited by 20 thousand people. The majority of the more than 500 photos posted it after it three years ago started his photoblog, apparently taken by a professional photographer. It's colorful, soft, delicate, shiny and glamorous photos. Many of them we see her two children, aged five and two and a half years. Some have her husband but it was impossible to make out detail.
"I run a blog devoted to traditional family values. I do not see myself as a fashion model, first and foremost I consider myself a mother and wife".
In fashionable clothing and hippie glasses she poses in the famous cafes, beautiful architecture and beautiful nature. We see the bedspread with rose print from IKEA, a jacket with a label Fjällräven, Timberland shoes and t-shirts with the logos of Metallica and AC/DC.
All nice and fine. But suddenly we notice similar to the swastika tattoo and clothing with inscriptions Slayer (assassin) til death and True (faithful until death).
The user name contains a numeric combination "88", Nazi jargon, meaning Heil Hitler (H is the eighth letter of the Latin alphabet). On her hands tattooed swallows, many consider them a symbol of white power. All of the forearm is decorated with a dagger with the inscription Meine Ehre heisst Treue" ("my honor is loyalty") motto Nazi organisation SS.
On the other hand she wheel with runes inscription "Glory to the white children of Russia". On both hands two broken red tattoo resembling a swastika.
"Beauty should be natural. I don't believe in show-off and do not like a lot of makeup".
Swedish Dan Ericsson (Dan Eriksson) is for a media platform that deals with nationalist radio, Internet TV, podcasts, and online newspaper.
In addition, the company sells books with such titles as "a Racist, of course" and "In defense of the North."
When Eriksson five years ago founded the company Motgift, each program was from 500 to thousands of listeners. After the migration crisis of 2015, these figures are, according to Eriksson, has grown to 8-12 thousand.
Mostly the audience are men aged up to 30 years. Only 18% women.
"One of our biggest achievements is that we brought nationalist ideas to the wider population. I knew this was our goal," says Eriksson.
At that time there were no nationalist media. Today, he believes that Sweden is the leading country in the world in terms of the so-called alternative media.
"Progress is due to the fact that we started to show a picture of nationalism that has not previously been so visible. We're talking, of course, about politics and events from our point of view, but we also show that we are quite ordinary people," says Eriksson.
"Previously, the majority of nationalists were anonymous. They didn't want to show yourself or to publish their opinions. We chose the opposite — full disclosure. We offer ourselves. Sitting in the Studio and laughing. We show our family, and we all know where we go to rest. This, apparently, helps to ensure that people find our program interesting, although not necessarily agree with our policies," he continues.
At some time of the transfer they say about the girl who was raped by a migrant. Then talk about football. Often they touch on the subject of Swedish Newspapers.
"We call them smelly media or false media. The reason, in particular, that they are one-sided coverage of the immigration crisis or the immigration issues. When I started Motgift, I did it to be able to influence. I'm no politician. I am the Creator of public opinion. You can call me an activist. It's also much easier. I can talk about the many problems without offering solutions. Heh-heh."
Comments
comments