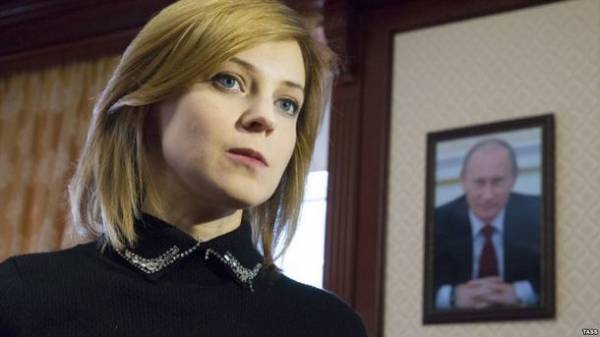 Ex-Prosecutor annexed Crimea, and nowadays the Deputy of the state Duma of Russia Natalia Poklonskaya proposed to carry out anti-corruption check of Fund of struggle against corruption (FBK), founded by opposition leader Alexei Navalny and the Russian branch of the international organization Transparency International. This Poklonskaya said in an interview with video News Service.
On the question of whether it considers these organizations as allies in the fight against corruption, Poklonskaya said that "information cannot be only because any organization is politicized," and any black lists sources it does not. "But, maybe, it would not hurt to check for corruption. Because, as they say, the thief and the cap off. Maybe that's why they scream the loudest", she added.
According to Poklonski, the work of such organizations is reminiscent of a PR stunt and could threaten the peace and prosperity of the country. "It is impossible to excite the society, it is impossible to play and use any situation- even corrupt – for his unholy purposes. But if the information received officially in my name, including from the FCO, of course, I in due order it will be reviewed," said Poklonski.
In the Fund of struggle against corruption (FBK) Alexei Navalny said it was ready to any additional audits, as the Fund had "nothing to hide". About it on air of radio station "Echo of Moscow" said the head of the legal Department, FBK Love Sable.
Deputy Director of the Russian branch of Transparency International, Ilya Shumanov, in turn, announced the investigation against Natalia Polonskaya. About this Schumann wrote on Facebook in response to offer Poklonskaya check the organization to corruption.
Comments
comments