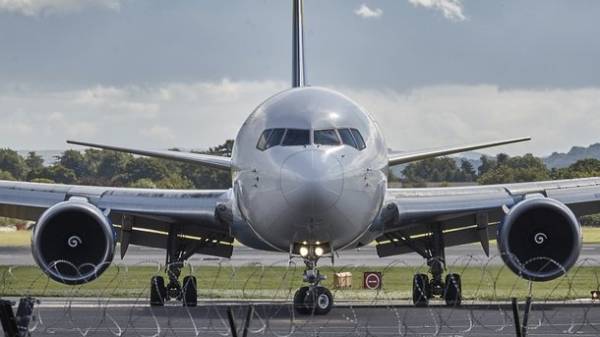 At the airport Zaporozhye landed the aircraft, receiving serious damage to the fuselage and all landing gear.
This reports the press service of the airline "Ukraine International Airlines".
"Today, aircraft MAU, flying PS085 Kiev – Zaporozhye, during taxiing after landing went to the site of the airfield with uncured concrete surface, receiving serious damage to fuselage and landing gear all", – stated in the message.
From 26 March to 10 may at the airport in Zaporozhye was held the fixation of artificial (concrete) runway. Yesterday the airline received confirmation of the readiness of the airport to take the flight
"On Wednesday, may 17, Zaporozhye airport by telegram notified the UIA regarding the lifting of all restrictions on flights from the 18th of may and the termination NOTAM No. 1239 and No. 1241, starting from 00:00 on 18 may 2017, – said the press service.
Technical condition of the plane does not allow to perform the flights, noted in the MAU. The airline decided to deliver passengers and PS088 PS086 flight Zaporozhye – Kiev to the destination by road. All passengers will be provided food and drinks.
Passengers of the mentioned flight transiting through the airport "Borispol" and losing the dock in connection with the delay of the departure of the first flight will have a full range of services stipulated by international standards in such situations: the provision of food and drinks, checking into a hotel, arranging transfer from airport – hotel – airport. Passengers will be offered alternative flight the closest flight.
Passengers who decided to stay in Zaporozhye, will reimburse the cost of the ticket.
"To investigate the case of the UIA created a Commission with participation of specialists of the State aviation service of Ukraine. Before receiving the Commission's findings and complete formal confirmation of technical readiness of the airfield Zaporozhye all UIA flights will be operated to/from the airport of the Dnieper," – said the press service of the airline.
We will remind, on March 26 runway Zaporozhye airport was closed for repairs. According to the press service for repairs allocated about 30 million, 20 million of which – means of the city budget and 10 million hryvnia – the money earned by the airport.
May 10, part of the main runway with a length of 2 thousand meters opened.
Comments
comments