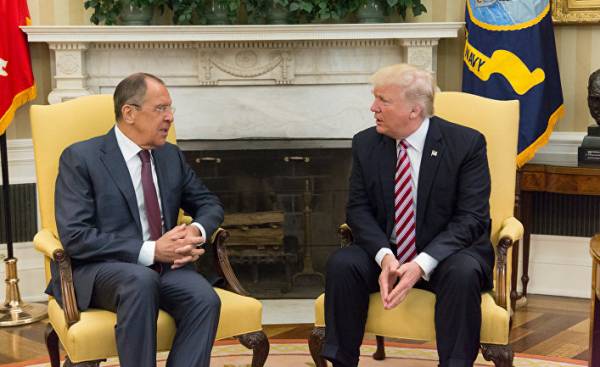 Trump has shared intelligence with Russia, arguing that the US with it — in the same command.
The decision of President Donald trump to pass top secret intelligence information on ISIS (banned in Russia — approx. ed.), Russian foreign Minister Sergei Lavrov and Ambassador Sergey Kislyak is still a matter of shock and outrage on Capitol hill.
Trump believes that his act is nothing special, and the reason is simple. Russia, he argues, is a crucial American ally in the fight against ISIS.
…to terrorism and airline flight safety. Humanitarian reasons, plus I want Russia to greatly step up their fight against ISIS & terrorism.
— Donald J. Trump (@realDonaldTrump) may 16, 2017
— Donald J. Trump (@realDonaldTrump) may 16, 2017
Donald J. Trump @realDonaldTrump
As President, I wanted (a pre-planned and a well-known meeting in the White house) to share with Russia the facts relating to terrorism and aviation safety, to which I am entitled. There are humanitarian reasons, and plus, I want Russia seriously stepped up its fight against ISIS and terrorism.
This is not a new argument for known for his Pro-Kremlin views of the President. Giving a 5 February interview with Fox News, trump told bill O'reilly (Bill O'reilly) that "Russia is better to get along than not. And if Russia will help us in the fight against ISIS, which is very important, as well as against Islamic terrorism worldwide, it will be fine."
But there is one problem. Most experts on national security believe that Russia does not have even a hundredth part of the commitment in the fight against ISIS, which is the United States. Thus, the main aim of Washington in Syria is to defeat ISIL and release of its self-proclaimed capital Raqqa. In contrast, the priority objective of Russia is to Syria's President Bashar al-Assad remained in power.
From time to time is forcing Russia to strike at the rebels, who enjoyed American support and fight against Assad and ISIS.
Unlike trump, Washington apparently has no illusions about Russia. The official representative of the Ministry of defense Lieutenant Colonel Michelle boldens (Michelle Baldanza) said that the Pentagon "has always urged Russia to act in accordance with his stated intention to fight against ISIS" and to this day demands that "Russia acted as a responsible member of the world community."
Working in the Obama administration, the leaders of the military establishment believe that attempts to convince Russia to actively fight against ISIS is a fool's errand. Former Deputy assistant Secretary of defense for European and NATO policy Jim Townsend (Jim Townsend) told me that he absolutely does not agree with the current administration, which believes that Moscow is ready more energetic to fight with ISIS.
"NO!!!!" he replied to me via email when I asked him whether Russia is our ally in the fight against "Islamic state. "No matter what they did against ISIS, their main goal is to protect yourself and to support Assad. For them it is a very different war".
Another former senior Executive from the Pentagon, who requested anonymity, said that when he served in the Ministry of defence, "the Russian defended their own interests, which periodically coincide with our own, but most disagreed".
Colin KAHL (Colin H. Kahl), who worked as a national security Advisor to Vice President Joe Biden and former special assistant Secretary of defense for strategic planning of brands, Hal (Hal Brands) wrote in February in Foreign Policy that "the most important goal of Russia, in which she's definitely making progress, is to strengthen the Assad regime, maintaining its power and protect its strategic interests in Syria and the middle East as a whole."
Both parties on Capitol hill agree that the White house should not rely on Russia in the hope that she will be his partner in the fight against ISIS.
In a press statement, Senator John McCain, who heads the Committee on armed services, said: "by Sharing confidential information with the Russian President trump does not pay attention to Russia's aggressive behavior and gets her to stop the killing of civilians and bombing of hospitals in Syria."
Senator Ben Cardin (Ben Cardin), a member of the Committee on foreign Affairs, said through his representative that he "would not call Russian allies in the fight against LIH."
Representative Cardin Sean Bartlett (Sean Bartlett) added that, according to the Senator, "Russia for its actions in Syria have exacerbated the situation and allowed ISIL to thrive".
Why many former and current officials do not agree with trump and claim that Russia is not a reliable ally in the fight against ISIS?
It's simple: because it is us — not ally.
Russia has its own reasons to fight in Syria. And it has nothing to do with ISIS.
It is very important to remember that Russia, acting in Syria, seeks primarily to protect Assad, not to defeat ISIS.
In February of analytical center Atlantic Council (Atlantic Council) published a report stating that Russia and Syria has bombed hospitals controlled by Assad's opponents areas and that Moscow then tries to hide the facts of the attacks.
The Russian air force and Syrian forces bombed Aleppo, killing about 100 people. Head of the organization Mayday Rescue James Le Mesure (James Le Mesurier) told the New York Times that the scenes of the bombings "remind Dresden", referring to the bombing of that German city by the allies during the Second world war in February 1945.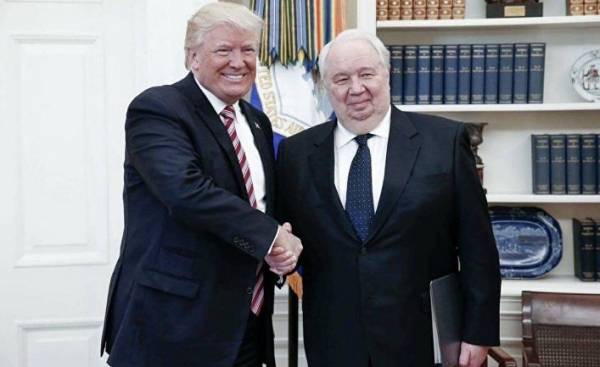 © Official Twitter feed of the Russian Embassy in the United States of Amigos Sergey Kislyak and U.S. President Donald trump. May 10, 2017
March 1, Fox News channel reported that Russia had bombed within a few kilometers from the locations of American troops. Not one American was hurt, but the brunt of the blow took over U.S.-backed rebel forces. The number of casualties has not been specified.
Lieutenant General Stephen Townsend, the commander of us forces in Iraq and Syria, told Fox News that the bombing stopped only after it was done "quick calls" the channels used by Washington and Moscow to avoid accidental impacts between the Americans and Russians each other.
Russia also uses an airbase in Iran for making sorties in Syria, helping Assad's troops to fight ISIS and other opponents of the regime.
There are other facts, but the main point is that Russia declares its contribution to the fight against ISIL, although in reality it is not. In fact, it helps the Assad regime to maintain its power, because Assad is one of the main allies of Putin in the middle East.
It is obvious to many. But the main and important people — American President doesn't think so.
Comments
comments