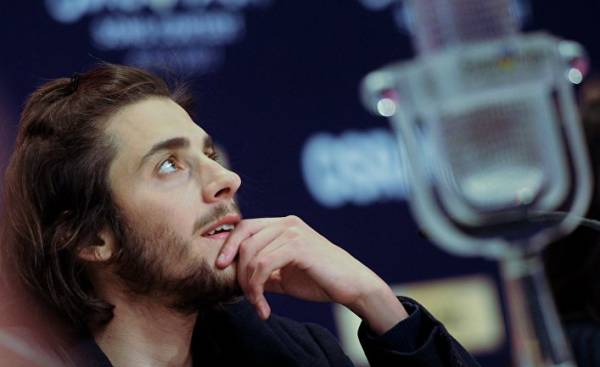 He took first place at the song festival "Radio and television of Portugal" (RTP) and won the "Eurovision-2017". However, the career of Salvador Sobral began not with it. What do we know about the artist of the song "Love enough for two"?
In the last few months, his voice became known in Europe and beyond, his song has spawned many memes and hashtag and once again forced the Portuguese to love Eurovision. However, by the time Salvador Sobral had already disappointed in a televised talent contests and was even thinking about the profession of a sports psychologist, he sang in bars and hotels Palma de Mallorca and fell in love with jazz, which he studied in Barcelona and which influenced his first album, Excuse Me, released in 2016.
About 27-year-old Salvador Villar Braancamp Sobral (Salvador Villar Braancamp Sobral), who was born in late 1989, much has been written and said, were discussing heart disease, that forces him to live with the constant idea about the appointed "time" (as recently admitted the singer in the program Alta Definição-SIC), in the gesture that accompanies it own performance and that does not surprise those who have been to his concerts, the singer sees a direct link between music and the body, but also calm ease, with which El Salvador has experienced such unexpected experience. Give eight facts that will allow you to get acquainted with "Salvadorable".

1. With 11 years participating in the television singing competitions
As the RTP song festival and the Eurovision in the national and international scale do not cease to be contests of musical talent. It is known that participation in such contests for El Salvador Gathered (and, for that matter, Louise had Collected) was not new: in 2009, El Salvador had a show Ídolos on the TV channel SIC and has reached the final, performing the song I've Got a Woman ray Charles, who along with Stevie wonder was one of the heroes of his childhood. But this was not the first for El Salvador Gathered in the talent competition. His first experience — participation in the festival Bravo Bravissimo at 11 years of age, where he sang a song of Rui Veloso Negro do Rádio de Pilhas. Recall that in this contest, which was broadcast on the TV channel SIC, the young people showed their creativity in music, dance and a number of other categories.

2. A musician who could become a sports psychologist
Although it seems logical that this experience is Salvador Sobral had to get used to playing on TV, you know that part in the show Ídolos had on it negative influence, and he decided to leave music. Shortly thereafter, El Salvador for some time studied psychology in Lisbon. At that time he was a big fan of football. In his face we lose a musician, but to find a sports psychologist — the direction in which El Salvador was seriously going to take. This brought the young man in Palma de Mallorca, where within the framework of the Erasmus programme he began to study at one of the most respected departments in this area. But no one can deny that his place — the scene in front of an audience and cameras he acts so naturally that it seems as if they do not affect his performance absolutely no influence. Excitement? The consciousness of responsibility? If he feels something similar, to others it is not noticeable.
3. Of the bars of Majorca in the higher school of music in Barcelona
It is on Mallorca, away from the attention that he was surrounded by the audience after the speech on TV, there was a reconciliation of Salvador Assembled with music. It happened essentially spontaneously — he began singing in bars and hotels, these performances began to generate income sufficient to 19-year-old young man could imagine that the future will always be able to lead a life on the island, working at night. In the end, El Salvador has left psychology. And went back to school when the area was finally selected. It is strikingly different from the original plan: El Salvador went to Barcelona, where he studied jazz music genre where the singer now feels comfortable and which allowed him to do what we saw in Kiev.

4. Jazz and sense of humor on stage
Those who had Gathered became known this year as a participant in the song festival RTP may not know is that by that time he already released the album Excuse Me and toured with concerts all over the country. According to a number of video, the singer likes to imitate the sound of a trumpet with your voice and hands, and his friends — for example, pianist júlio Resende — note his characteristic sense of humor, which became apparent every time the country has appeared in front of the cameras behind the scenes of "Eurovision": "Once at a concert we played a song called Nem Eu, and then reigned a solemn silence, and after a long applause Salvador said, "wow, that's quiet, well, no one farted"".

5. Music brother and sister: inseparable but very different
Sister of Salvador, Luisa Sobral (Luísa Sobral), as is known, not only composed for his brother's music. She is a singer with a solid music career: in 2003, Louise went through the same contest in the TV show Ídolos, studied music in the USA and have already released four albums, including the Cherry On My Cake and Luísa. And although brother and sister are very different, what Salvador has repeatedly said in an interview that family relationships play a key role in the creative journey of the young singer. Exactly Louise convinced him to try to learn music, when my brother had intended to continue to sing in hotels (when Salvador began to appear the first beard, the sister called him "buçolini" (buço — down on her upper lip — approx. TRANS.), what allows to conclude that the humor they have — a family trait). In my parents ' house always had music, and while traveling all of often singing in the car. In General, that they have a family, and the family is known to be the most beautiful thing we have.

6. "Love enough for two" — Yes. But that did not get to the festival?
The song "Love enough for two" has already made history: created version karaoke in the style of heavy metal, it has caught the suffering benfiquista and Spanish and Ukrainian children. By the way, remind: Salvador Sobral said that it is not against to include the song on his album — so he identifies himself with the song written for his sister. In fact, receiving from RTP's invitation to become one of the authors of the music for the song festival a new format, Louise Collected immediately reported this to the brother, although a tune she was not. Then it took her some time to present a final version which was ready only on the eve of recording. In addition to well-known songs, she invited another one, the inspiration for which, according to rumors, was the festival music 60-ies. Success was waiting for a song that is now on everyone's lips. It remains to be seen whether there will be one day opportunity to get acquainted with the option, which is no longer in business. Oh, it's curiosity.

7. Already know the date of their next album. And it will be in Portuguese
Most of the songs from said debut album, El Salvador, Collected Excuse Me is written in English (although there is one in Portuguese and two in Spanish — a language in which the musician is also great, bladeii). And while we do not know what steps he intends to take El Salvador Gathered in the near future, we know that even before the period of "Eurovision" he has begun work on the next album: its output is scheduled for 2018, and this time it will be in Portuguese. Although now the artist will be brought to the attention of the whole world, nothing should stop his plans to return to the Studio.

8. Salvador arrived in Portugal on Sunday
In our custom — warmly and enthusiastically to meet those who worthily represent the country. Now these people rightfully belongs Salvador Collected. On Sunday, Lisbon airport has become a place of pilgrimage. And not without reason. Salvador Sobral — the man who, by his own admission, never watched the main song contest of Europe — became our hero of "Eurovision".
Comments
comments