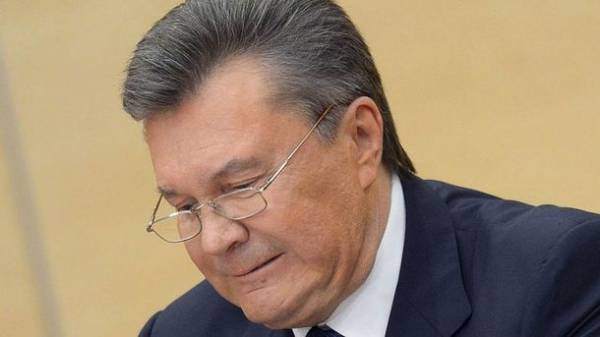 In cases of ex-President Viktor Yanukovych, it is important to take all measures to ensure the rights of trial participants in order to legitimate the verdict. This was stated by the head of the Department of special investigations of the GPU Sergey Gorbatyuk, transfers "112 Ukraine".
In the case of treason, the meeting which to be held on may 18, Gorbatyuk noted inconsistencies in the legislation.
"We manufacture not completed, and it's hard to say about the circumstances of the review and prospects of this production. I pointed at the inconsistencies of the current legislation on absentia proceedings the requirements of international conventions and practice of the European court," he said.
Also Gorbatyuk said that, in his opinion, the case on the illegal transfer of land Yanukovych in Sukholuchye is delayed.
"For the duration of consideration, in my opinion, the process is delayed because the indictment is in court since last summer, and if time had considered that it would be possible to obtain a decision on the case," said the Prosecutor.
"It is important that both in this and another trial took all measures to ensure the rights of participants in the process to get a legitimate verdict," he concluded.
June 15, 2016, the Department of special investigations, the GPU has sent to court the indictment against 18 people, including the former head of the Kyiv regional state administration Vera Ulyanchenko and Director of the Dnieper-Teterevsky state lesookhotnichye economy Nikolay Gordiychuk, the assistant to the Prime Minister (2007) Nikolai Kolomiyets, Director of "house of the Forester" Yuri Bulava and others.
As for the other things, Obolonskiy district court of Kiev on may 4 began a preparatory meeting in the case of treason Yanukovych. The defense asked the court to postpone the preparatory meeting, before the decision of the Appeal court to change jurisdiction of a case, but the request was denied. The court also allowed to organize a videoconference to Yanukovych's participation in the session on the case of treason. The next meeting will take place on may 18.
As you know, 14 March the Military Prosecutor's office sent to court indictment against Yanukovych. According to the PGO, he is suspected of committing crimes under part 1 of article 111 ("high treason"), part 5 article 27, part 3 of article 110 ("Complicity in deliberate acts committed with the aim of changing the boundaries of the territory and the state border of Ukraine") and part 5 article 27, part 2 of article 437 ("complicity in the waging of aggressive war") the criminal code of Ukraine.
Comments
comments