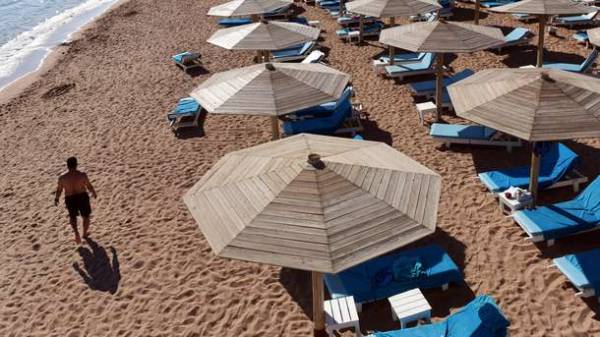 This year, the Ukrainians will have to pay for your foreign travel. Hotels and travel agencies have raised prices, writes UBR.
"For example, may rounds we see that the trips went up by 5 – 10%. But that has not deterred customers. This gives hope that the summer season will not be worse. Orders are already, and in the most popular areas and hotels may even be a shortage of places", — said the head of the Ukrainian Association of tour operators Igor golubaha.
Summer prices will be even higher. Experts have calculated that the average price of a foreign holiday for two will cost 1,1 – 1,3 thousand dollars for the trip 7-10 days. Although, as before, people will try to save. Travel will be a little bit cheaper, and ekonomrazvitija this year also rose.
"If a month ago the tour was worth $ 500 for two, now with these settings — $ 800. Generally the price range is very wide: from 600 to 3 thousand dollars for two. Payments for child 50 – $ 300 depending on age and resort (the hotel)," said the travel Manager Yana Ivanova.
Wanting to go on holiday abroad was less than, but not significantly. People "hunt" for the budget proposals and resort to the service of early booking, which can save about 30 to 40% of the cost of the trip. About the same can win fans burning stages.
Turkey replacing Egypt
The most popular among Ukrainians destination remains Turkey. Are coming about 70-80% of our visitors. Just a few of them from time to time interested in other budget vacation in Egypt. About Egypt think about those who are not willing to pay for the expensive Turkey. Trip to latest will increase in price by 10 – 15% after the improvement of relations between Turkey and Russia: after the Russian government again allowed its citizens to travel to that country.
"The Egyptian direction this year will grow by about two times. Here will be a lack of Russian tourists and prices can fall, as happened previously with Turkey. Summer in Egypt though hot, but still the climate here is dry and more comfortable than those in the UAE," said the CEO of the network "Come with us," Oleg Kulik.
Despite the fact that Ukrainian tourists choose the cheapest direction to relax they love all the same comfort. Therefore, the choice often falls, though not on a VIP-resorts, but still a 5-star all inclusive hotels. A little less choose four stars.
The difference in the cost of holidays in the two countries are quite noticeable. Even in the budget proposals. For example, burning in may, a week-long tour to Turkey can be purchased for around 600 – 700 dollars for two in a 5* hotel. Same Egypt was worth 500 – $ 600.
Stay on the VIP-resort will cost much more expensive — the average bill for two is in the range of 4 to 5 thousand dollars.
Other options
Also gaining popularity Montenegro, Spain, Greece, Cyprus, Tunisia and Croatia, which, though inferior to Montenegro, but still quite popular among Ukrainian tourists. Thousands of our tourists will go this year in Albania.
Here the price tag is slightly higher. For example, stay in 3* hotel on the Greek island of Crete with Breakfast and dinner will cost Ukrainian tourists about 40 thousand UAH for two.
Cheap holidays to Albania and Cyprus will cost 500 – 700 euros. In high season, as with Turkey and Egypt, will be more expensive.
In order to save there is a sense to take, say, 4 to 5*, and three-star hotel, to abandon the all-inclusive, walk more around the city and see the sights, the nature or decrease the number of days of stay in the country.
"The Villa will cost about 100 euros per day/person. Sometimes the Ukrainians did not fly for 7 – 10 days and 4 – 6. This helps them save up to 5-10%. Although sometimes this is not feasible, because the price of tickets will remain the same," — says Oleg Kulik.
The gallop across Europe
In anticipation bezveza Ukrainians are increasingly interested in and EU countries. For example, the constantly increasing flow of tourists to Bulgaria, Italy, nice and Monaco.
Budget holiday in Europe will cost the Ukrainians about 20 – 50 Euro/day. If you want you can try stacked 300 – 500 euros/week. As a Schengen visa still has not been canceled, for them and consular services centre will have to pay another 60 Euro/person.
Moreover, in most European hotels do not work on the system "all inclusive", so what kind of food will have to pay separately. For example, to dine at the resorts in Greece and Spain is about 10 – 15 euros/person
"European vacation is entire with Breakfast or without meals. Having estimated the prices and portions, the tourists understand that when you round the cost of 450 euros will have the same amount to spend on food and entertainment," said Yana Ivanova.
For those who have a budget, the tour operators can offer European bus directions for recreation and for excursions. Although Ukrainians are increasingly starting to combine the pleasant with the useful — take a tour plus beach. The trip usually lasting several days, and includes a number of European cities, or even countries. It costs 100-150 euros.
While understanding people realize that it is not only the availability of biometric passports, the issue queues in the design of 1.5 – 2 months in a local OVIR. "Bezviz still hope for the less wealthy tourists, but they do not take into account the fact that in addition to a passport you will need to attach a number of documents (almost like an Embassy). But this is not the final information. Waiting for the official document about the rules of border crossing by Ukrainians", — said Yana Ivanova.
Comments
comments