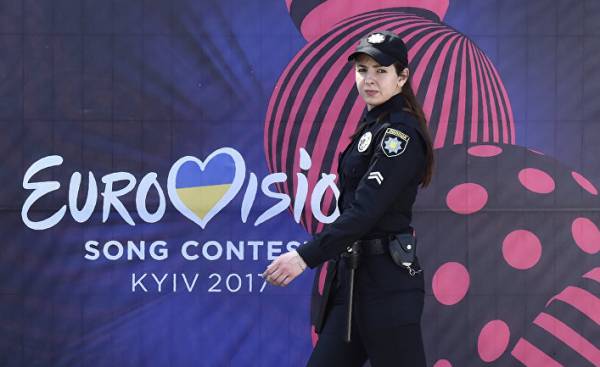 Thousands of artists, delegates and fans are now in Kiev, where the final of the 62nd edition of Eurovision song contest. Here the crowd of police and security.
Only one international Convention and exhibition center arena, which will host the final — is surrounded by a total of 3.7 thousand police officers and national guard, according to the newspaper KyivPost. This figure was announced by the administration for the prevention of illegal actions of the National police of Ukraine.
In addition, taking enhanced security measures around a common open area of the village of "Eurovision" on the Central Khreshchatyk street, and night club fans EuroClub near the Mariinsky Palace.
This week, the authorities partially closed the air space over Kiev. Everything is done to ensure that the week is ending, to avoid problems, acts of terrorism or demonstrations with use of violence.
Not dokrutili
The first artists arrived in Kiev in late April, and while the plan of the authorities on the safety, apparently, works.
Anyway, according to President Petro Poroshenko, who on his page on Facebook on Sunday congratulated the people after the opening ceremony with "what "Eurovision" began."
But Eurovision is not without its problems this year, although no major episodes were reported.
Conservative nationalist group "Right sector" (extremist group banned in Russia — approx. ed.) is reacted with demonstrations at the decision to paint the famous Soviet monument "Arch of Friendship of peoples" in the colors of the rainbow symbol of the LGBT movement, to support the slogan of the year "Respect diversity".
Painting had to be interrupted and, in the end, to stop the other symbols. The struggle for the rights of sexual minorities — is still a hot topic in Ukraine.
The ongoing conflict with Russia
The ongoing conflict with the neighboring country because Russia annexed the Crimea — is also a factor that complicates the situation, although it is not evident in the festively decorated Kiev, where the "Eurovision" many have left their mark.
Russian singer Yulia Samoilova was denied entry to Ukraine, because a few years ago, she illegally went to the Crimea. Russia refused to broadcast the finals on TV, and in the end, the organizer of the EMU she was denied the right to participate in the finals.
This episode will surely have consequences for the broadcasting Union the EBU, when the celebration in Kiev will be completed.
Russian journalists banned
The same evening, when was held the first semi-final in Kiev, Yulia Samoilova again visited the Crimea. May 9 — the day which marks the capitulation of Nazi Germany to Russian in world war II, and the singer performed at the event in Sevastopol.
Two Russian journalists newspaperman who visited the Crimea earlier and was covering the conflict in the beginning of this week also received a ban on entry into Kiev on the same controversial basis that Samoilov.
And this means that the conflict between the two countries continues despite the call of "Eurovision" to "celebrate diversity".
Comments
comments