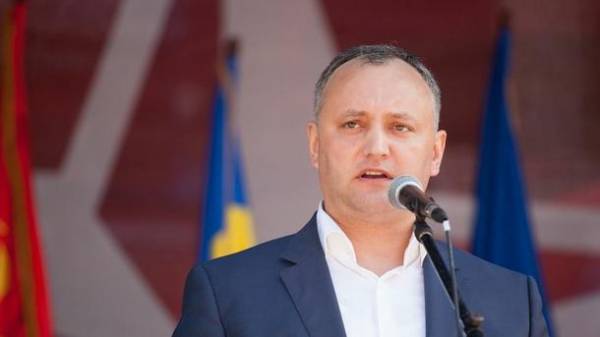 The President of Moldova, Igor Dodon said that membership in NATO is categorically unacceptable for his country.
"NATO is absolutely unacceptable," said Dodon in a meeting with state Duma speaker Vyacheslav Volodin on Wednesday.
"All our partners I always say that there are three or four things I can never that they were the subject of negotiations: this is our state, is the preservation of Moldova, neobhodimiye with some countries. The second is our neutrality, NATO is categorically unacceptable. The third fundamental point is our Orthodoxy", – said Igor Dodon.
He noted that those European values that "Moldovans are trying to impose different ways", the country does not need.
The fourth point that he is not ready to discuss with anybody, it is a question of strategic partnership "with our friends from Russia."
"These are the four fundamental points where no discussion can be. It is important that all these four things the majority of citizens of the Republic of Moldova supports", – said Igor Dodon.
We will remind, the President of the Moldovan Parliament Andrian CANDU considers that the granting Moldova the status of observer in the Eurasian economic Union will have only "symbolic".
"This is a political gesture of the President Igor Dodon. Unfortunately, he continues his speech with the same message, what is promoted in the electoral campaign for the presidential election. It doesn't do any good, because society is divided. The President is taking actions to exacerbate that split, instead of having to find the solutions and projects for its consolidation," – said the speaker reporters on Monday.
He stressed that "granting Moldova the status of observer in the Eurasian economic Union is mainly symbolic and will not affect the situation in the country or its relations with other partners."
Comments
comments