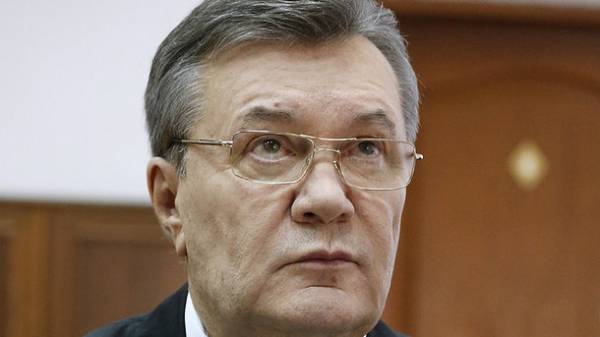 Obolonskiy district court of Kyiv has announced a break in the preparatory meeting on the case of ex-President of Ukraine Viktor Yanukovych, suspected of treason.
The presiding judge Vladislav Devyatko said that "in the preparatory court session is in recess until 10:00 on 18 may."
So, at the beginning of the trial the judge Devyatko refused the protection of the former President to postpone the meeting in the case of treason to the decision of the appeal court to change jurisdiction of the case.
In turn, the military Prosecutor Ruslan Kravchenko, spoke out against Yanukovych's participation in the trial via video link, as it is, he said, "there is the criminal procedure code of Ukraine regarding participation in a video conference the accused who are wanted and hiding from the bodies of preliminary investigation and court".
As you know, 28 Nov 2016 Lutsenko in the Svyatoshinsky district court of Kiev Yanukovych read out a notice of suspicion in Commission of high treason, of aiding the authorities of the Russian Federation, intentional acts committed for the purpose of modifying the boundaries of the territory and the state border of Ukraine in violation of the order established by the Constitution, waging aggressive war, crimes under part 1 article 111, part 5 article 27, part 3, article 110, part 2 of article 437 of the Criminal code of Ukraine.
20 January 2017 Pechersk district court of Kyiv allowed the Prosecutor General's office to conduct the correspondence, the investigation of treason Yanukovych.
March 14, Lutsenko said that Kiev Pechersk district court could not consider the indictment of treason against Yanukovych, because all judges participated in the consideration of certain issues within the framework of a pretrial investigation in this case.
At the same time, the Ukrainian prosecutors in this trial will represent not only the state of Ukraine. They will speak on behalf of thousands of dead, tens of thousands wounded, millions of refugees from Ukrainian Crimea and Donbass.
"This is not a process of revenge, because we demand justice and let the rule of law," – said Lutsenko.
Comments
comments