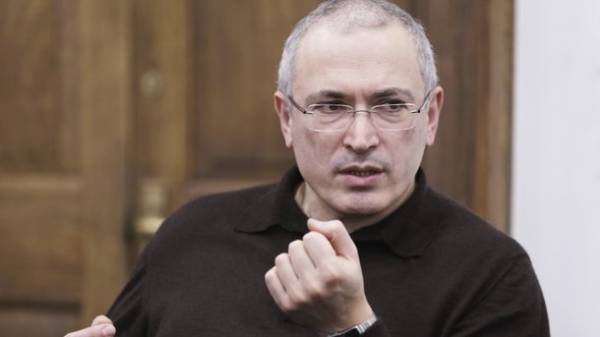 The founder of the movement "Open Russia" Mikhail Khodorkovsky called "successfully held" a protest rally "Tired". As reports Radio Freedom, he said, despite the fact that people before the rally "specifically threatened" and during the protest they were accompanied by the "crowd police," activists have filed appeals to the presidential administration with the requirement to Vladimir Putin to refuse participation in elections in 2018.
"People came [to the rally] is completely in accordance with the law. They had every right in on their day off to bring letters to the presidential administration with those requirements, which these letters contained," said Khodorkovsky in the air YouTube channel "Open Russia".
The detention of protesters "Tired" in St. Petersburg he called a manifestation of "inadequacy" on the part of local authorities.
As reported, on April 29 started the announced "Open Russia" all-Russian action "Tired" to demand that the Russian President Vladimir Putin not to run for President in 2018. The event was held in dozens of Russian cities, but not all of them agreed with the local authorities, which the police have started to detain activists.
According to recent reports, Russian security forces detained hundreds of protesters "Tired" in different cities of Russia. According to the Russian service of Radio Liberty, most of the detainees, several dozen in Saint-Petersburg and Tula, where they also confiscated letter to Russian President Vladimir Putin.
In some cities, the action prevented the representatives of local authorities: in Tomsk, in particular, the speeches of the activists of the "suppressed" Patriotic songs of the cars of public utilities, and in Krasnodar suddenly started to mow the lawn at the venue of protest actions.
Shares "Tired" of the movement "Open Russia" held today in many Russian cities. In Kemerovo at the event detained about 20 activists. In Izhevsk, Gorno-Altaisk, Novokuznetsk and Tyumen, the police came the protest organizers.
Comments
comments