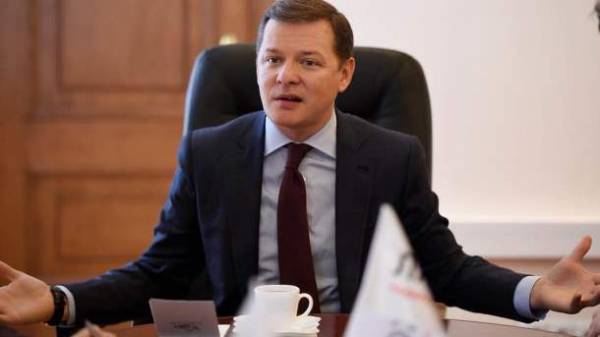 The leader of Radical party Oleg Lyashko not threaten serious trouble in a criminal case about possible illegal enrichment and the prison will not fall. This was stated on air of radio station "Voice of capital" political expert Andrey Zolotarev.
In his opinion, Lyashko during his political career has not earned the funds that he purchased his property.
"Tell us about the political order – it's closer to conspiracy, but the property status of the main radical is from the category of facts. And the facts are very clear. And even if we are able (to count) all fees, Oleg Lyashko from the time when he was a newspaper "Freedom" was published, then parliamentary salary when he was in the ranks of "Batkivshchyna", we will discover that nothing has turned to he's financial situation", – said Zolotarev.
He believes that if in such a case Lyashko was held in Europe, the consequences would be more disastrous for him, and in Ukraine will get off "easy fright".
"I think serious trouble Lyashko is not threatened, and given its unique status in Ukrainian politics, the jester can only be one, there can be only one. Proven Zhirinovsky. So he whacks. He will not sit for it. Although in any European country, I think he would be thrown out of politics in shame and most likely would have been in jail," the expert added.
As was stated by the Director of NABU Artem Sytnik, Special anti-corruption Prosecutor's office suspected of Oleg Lyashko in a possible illicit enrichment, having got on it criminal proceedings.
In turn , the politician has visited the interrogation in NABOOwho was dissatisfied. According to him, the conversation with the investigator was "nothing".
We will remind, as it became known in January of this year, Oleg Lyashko declared that the acquisition of a residential building and two plots of land in the Obukhov district of Kyiv region for 15 million hryvnias.
Comments
comments