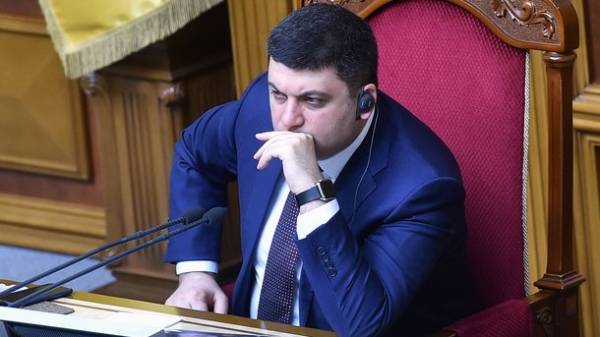 Prime Minister of Ukraine Volodymyr Groysman ready to help in resolving the situation with the building of the hay market. He stated this in an interview, according to the Left coast.
The Prime Minister said to him on this issue and asked the activists, and the mayor of Kiev Vitali Klitschko.
"I gave the relevant instruction to the government agencies they are working. I think soon there will be a conclusion, what it is, what are the deviations and how to deal with them", – said the head of the Cabinet of Ministers, noting that, if necessary, will give the order to check, whether is involved the Ministry of culture to issue appropriate permits.
"In fact, in the framework of decentralization a lot of authority went to the place, to the city administration. But I'm always willing to help. The city should not be held hostage to developers. They are created for people, and that people need to feel full. And when being built so that you cannot breathe, no pass, no place to put the car with the kids to walk is barbaric. Therefore, the relevant services all recheck if the city Council will need help we will always help for the good of Kiev", – said Groisman.
The scandal with the construction of a new residential quarter on the ruins of the sights of Kiev – hay market is again gaining momentum. While Kiev need to stop work then stop, then start again, and the activists who are trying to prove its illegality and to protect the city, threatened.
Hay market was not in 2004, when the Kyiv city Council passed decision No. 618/2028 on the transfer of land in the street thieves', 17 two private companies – LLC "Firm "ferro" and "hay market" for the "construction, operation and maintenance of commercial-office-residential center with underground Parking and demolition of existing buildings". Plot with an area of 1.98 hectares were leased for 10 years.
In February 2005 the Kyiv city Council changed its decision by replacing the words "for demolition of existing buildings" with the words "ensure the continued functioning of the market selling food and non-food items in capital construction and preservation of jobs" (decision No. 618/2028 from 24.02.2005).
After several years of litigation, the Supreme economic court of Ukraine ruled that the contract of sale and purchase of the land assigned to the third company – "Orestes" (order dated 22.04.2013 in case No. 44/396). The Document stated that will be building commercial-office-residential center with underground Parking and demolition of existing structures. The right of ownership of the land was registered company "Orestes" and transferred to the company, non-resident.
Comments
comments