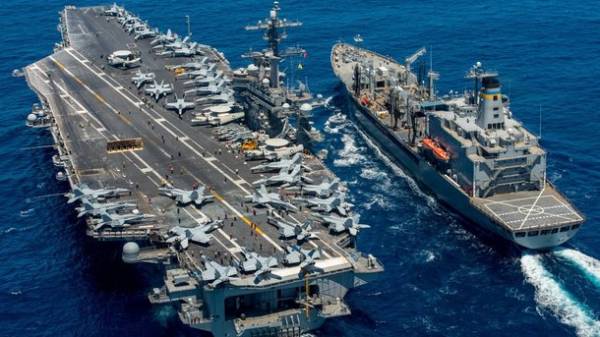 Carrier strike group the U.S. Navy led by the nuclear aircraft carrier "Carl Vinson", sent to the coast of the Korean Peninsula, said on Wednesday Pacific command of the United States.
"A carrier battle group, "Carl Vinson" heading North in the Western part of the Pacific ocean as a precaution", – stated in the message Command.
In my Facebook group commander rear Admiral James Kilby wrote that "the term long voyage ships extended for 30 days to ensure a sustainable presence in the waters near the Korean Peninsula".
"Our goal is to assure allies and partners of the immutability of our obligations to the Asia-Pacific region, – said John.Kilby. – We will continue to be the core of real sea deterrence, which offers our command and flexible deterrence."
A Pentagon spokesman said the news website of the naval Institute, States that a carrier battle group, "Carl Vinson" may come to the Korean Peninsula in the beginning of next week.
According to the newspaper Stars & Stripes, at a maximum speed of 34.5 miles per hour the ships will take about four days to come to the Peninsula.
According to reports, at present, the carrier group is off the coast of Indonesia on the South China sea to the North.
Earlier in April, Washington has stated that "Carl Vinson" is sent to the Korean Peninsula, however, as it turned out, at that time it was not true.
According to the newspaper The New York Times, April 12, when U.S. President Donald trump said about sending the "Armada" to the shores of the Korean Peninsula, exactly "the group was moving in a completely opposite direction to participate in joint exercises with the Australian fleet", 3.5 thousand miles to the southwest of the Korean Peninsula.
For its part, the newspaper The Wall Street Journal, citing senior White house officials wrote that the White house had received inaccurate information from the Pentagon about the whereabouts of the aircraft carrier, and so first gave inaccurate information about the movements of the carrier. At the same time, said the representative of the Pentagon, he realized his mistake only Tuesday.
The composition of the carrier battle group US Navy aircraft carrier in addition includes the missile cruiser "lake Champlain canal" and two destroyers – "Michael Murphy" and "Wayne Meyer". In addition, a carrier battle group is usually accompanied by nuclear-powered submarines equipped with cruise missiles "Tomahawk".
In South Korea and Japan do not rule out that North Korea could carry out another provocation on 25 April, the 85th anniversary of the founding of the Korean people's army. April 15 the 105th anniversary of the birth of founder Kim Il sung of North Korea had launched a ballistic missile, which was unsuccessful.
Comments
comments