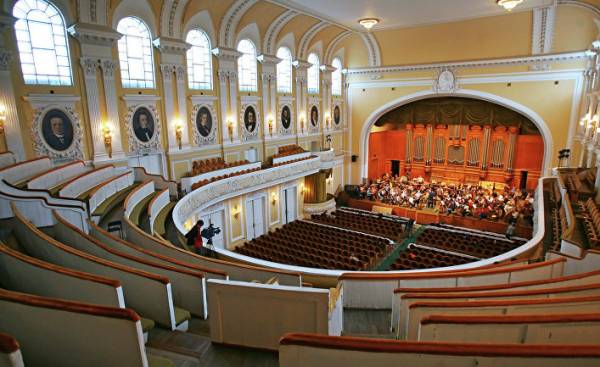 "It is necessary that blood, felt the adrenaline," — Dmitry Sinkovsky (36 years old) said that in the dead of night in the Great hall of the Moscow Conservatory, wiping the sweat after the performance of the Violin Concerto, Mozart No. 4. Sinkovsky belongs to a completely new generation of Russian musicians who want their music brought the audience into ecstasy.
Great hall of Moscow Conservatory in the center of Moscow — one of the most famous rooms in the world.
Here for the first time performed works by Rachmaninov and Shostakovich, and after a large-scale renovation of the elegant premises of steel and of themselves attraction.
"To play here is something special", — says Dmitry Sinkovsky during a meeting with a reporter from NRK in the large dressing room behind the stage.
Thirty-six musician — himself a graduate of the Moscow Conservatory, but his work area now is the whole world.
Additional rooms
A stream of friends and fans of musician continuously enters and comes out of it at the time as he talks with correspondent NRK. One of his former teachers asked what kind of violin he plays.
"This is a Francesco Ruggieri (Francesco Ruggieri) 1675", — says Dmitry Sinkovsky that emits living energy after a very hard day. Only a few hours ago his plane landed in Moscow's Sheremetyevo airport.
"Tomorrow at seven in the morning I have to be back there," he says to NRK reporter, but asks us not to leave.
Will be an additional performance after the orchestra will perform "Eroica" Symphony by Beethoven. Midnight has already passed, but has not yet passed, and half of the concert.
And the extra room and sometimes multiple rooms is something that has become a brand of Dmitry Sinkovsky, especially when he acts together with the other new star of Russian soprano Julia Lezhneva.
When the pair played in Moscow before Christmas, attended the concert tell that the impression was so strong that the audience would not let them until, until they sang seven numbers for an encore.
Russia and Baroque music
In the evening Dmitry Sinkovsky performs Concerto No. 4 for violin and orchestra by Wolfgang Amadeus Mozart (Wolfgang Amadeus Mozart) violin Baroque with the Perm orchestra MusicAeterna.
Conductor — his old friend Teodor Currentzis (Teodor Kurentzis), a Greek by birth, became a naturalized Russian once in the nineties was educated under the direction of renowned conductor-pedagogue Ilya Musin in St. Petersburg.
Energetic orchestra conductor directs the events on the stage. Sometimes Currentzis with his long arms hanging almost over the little Sinkovsky with his violin.
Although this evening's program is Mozart, however, Dmitry Sinkovsky is more known for his performance of such classics of Baroque music like Antonio Vivaldi (Antonio Vivaldi) and Heinrich Biber (Heinrich Biber).
"I can't explain why I'm in love with Baroque music", — says Dmitry Sinkovsky about why he was attracted by this musical style.
Russia never had a strong tradition of this musical style in comparison with Germany or Italy, but it seems that the situation is changing.
The concert, before the second half
The work of such stars as Dmitry Sinkovsky and Julia Lezhneva shows that Russian musicians occupy the leading places on the international music scene. Diversity of talent Sinkovsky lights. Now the public demands that he sang some Aria by Handel or Vivaldi, though the concert is planned as an instrumental.
This evening or this night we had to wait for the performances of countertenor Dmitry Sinkovsky almost to the second half of the night. At this time Moscow metro train has long since ceased to walk, but, apparently, it's a little worried about almost 2 thousand listeners that night had a great opportunity to listen to the speech of the new stars of Russian classical music.
Comments
comments