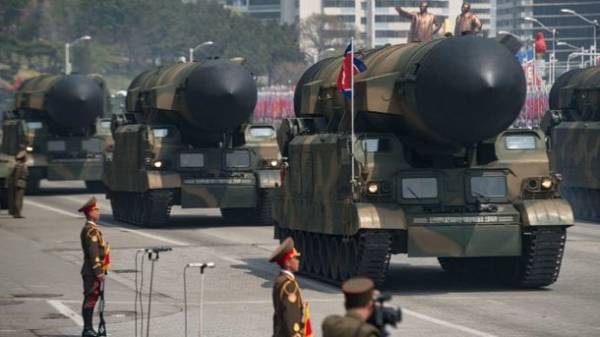 In North Korea do not see anything wrong in missile tests, including nuclear weapons. This was stated by the first Deputy of the Department of Europe of the foreign Ministry of the DPRK Kim Yong X, reports RIA Novosti.
He noted that building rocket power is entirely for peaceful purposes of self-defense.
"Dear Supreme leader Kim Jong UN in his new year speech indicated that preparation of test launches of ballistic missiles already at the perfect stage, and we have repeatedly declared that at any time when you decide our leader Kim Jong-UN, it will be possible to take such measures. Measures to enhance nuclear armed forces are self-reliant measures of our country and the efforts to ensure peace and security on the Korean Peninsula. It is the legitimate right of a sovereign state. There was a question that we recently held the launch, but officially it is not declared. Even if produced (this is the) normal process, to enhance the ability of nuclear deterrent forces of our country, and it is not surprising. Not always things are published in the media," said Kim Yong-Ho to Russian journalists in response to a request to comment on reports of a failed missile launch of the DPRK, which took place in the night on Sunday.
As it became known, North Korea has tried to hold another test launch, but the launch was unsuccessful.
On the eve of the start of the parade in the DPRK demonstrated a ballistic missilethat could reach the United States.
In turn, South Korea threatened North Korea for missile tests. The South Korean government has promised its aggressive neighbor punitive measures.
In the United States this action has been dubbed the provocation of the North Korean authorities.
Comments
comments