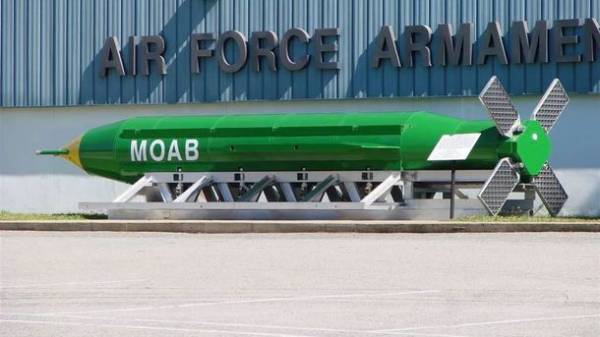 Heavy duty non-nuclear munition used in Afghanistan to reduce operational space for militant operations against the American military advisers and Afghan security forces. This was announced on Thursday, the official representatives of the White house and the U.S. Department of State, reports "UKRINFORM".
"We are struck by a system of tunnels and caves that were used by the ISIS militants for the free movement that facilitates bringing fire on us military advisors and Afghan forces in this area", – commented on the use of unusual weapon, the White house spokesman Sean Spicer.
He stressed that "the United States perceive the fight against ISIS very seriously", and in order to win over the group, "we need to deprive them of the operating room, which we did."
At the same time, the acting U.S. state Department spokesman mark Toner said that the decision was balanced. "I can say that it (the decision – ed.) was reached after the discussions that we had with the Afghan government," said Toner.
He stressed that it is part of the ongoing efforts of the United States in the fight against the Taliban and cells of ISIS and al-Qaeda in Afghanistan. "And it will go on," said Toner.
As reported, American troops on Thursday used a heavy duty munition GBU – 43, known as the "mother of all bombs." The bomb has a GPS navigation and weighs 9.8 tonnes. It was first tested in March 2003, just days before the war in Iraq.
Comments
comments