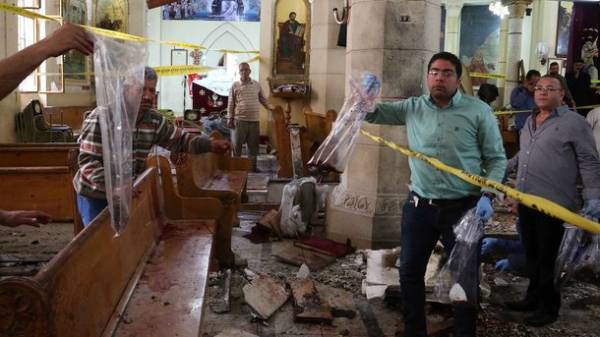 The death toll in two bomb blasts in Egypt in the churches of Coptic Christians on 9 April 2017 increased to at least 45 people. More than 100 people were injured, reports the BBC, reports "RIA Novosti".
According to the Ministry of health of Egypt, at least 71 people were injured in the blast in the city of Tanta, and 35 – the explosion in Alexandria. The explosions occurred when the congregation gathered in churches on the occasion of palm Sunday. Subsequently, according to state media, the security forces of the country defused two explosive devices at a mosque in the city of Tanta. Egyptian authorities led security forces to combat readiness.
The country has declared three days of mourning. Responsibility for the bombings took the extremist grouping "Islamic state".
We will remind, the first explosion was progremel in the Coptic Church of St. George in the city of Tanta in the Nile Delta, 94 km North of Cairo. The explosion occurred inside the Church near the altar. Killed 29 people. Some time later the second explosion took place. The device worked in the Church. Mark in Alexandria. It killed 16 members. A suicide bomber blew himself up after police prevented him to enter the Church. Four policemen, among them one woman, were killed, according to the Ministry of internal Affairs of the country. Ukrainians among the victims of the terrorist attacks in Egypt, according to the diplomats, no.
Comments
comments