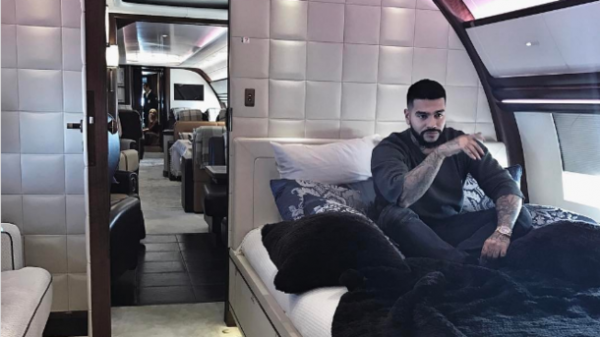 The head of the Republic of Chechnya, Ramzan Kadyrov, owns Airbus, the price of which may reach $ 80 million. About it reports "Rain".
The cost of the aircraft was able to calculate thanks to a post in Instagram by the Russian singer Timati, who is a friend of the head of Chechnya. He published a photo of the cabin and wrote: "When before the 8th of March you get kicked out of the house, but your brother always got a spare room," noted Kadyrov in the picture. Subsequently, Timothy post deleted.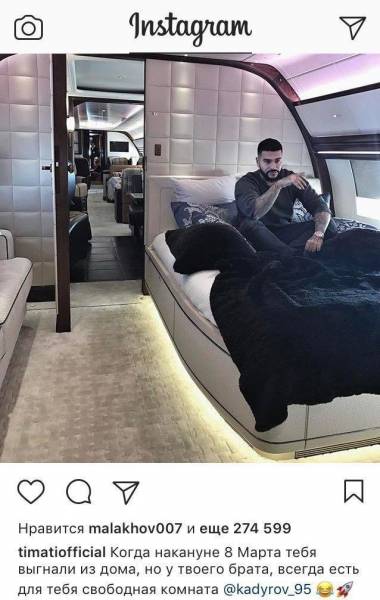 According to the newspaper, the salon, which was in pictures Timati, identical to the interior of a business jet Airbus ACJ319. This liner is one of the most luxurious aircraft, and its cost reaches $80 million had the most spacious interior in the world in aircraft business class.
"According to the site Flightradar24.com on March 20, last year from nearly 140 flights performed by this aircraft, 116 began or ended in Grozny. If you trace movement of the jet, it is possible to draw a conclusion about his affiliation with Kadyrov or with someone from his entourage," – said in the article.
It is reported that the aircraft is equipped with a living room, bedroom, office, bathroom, conference room for 12 people with its large LCD display and means of special communication.
It is noted that in the interior of the aircraft there are exclusive components like a rare deciduous tree species, special leather, marble and precious metals.
According to the site flightaware.com the plane is owned by Edelweiss Avia Ltd. This company is registered in the official register of legal entities of Bermuda. The registration number of the aircraft indicate that the aircraft is registered in Bermuda.
In the income Declaration, Kadyrov is no mention of the plane. The publication notes that the head of Chechnya has never engaged in business.
We will remind, Kadyrov is the head of the Chechen Republic from February 15, 2007. 18 September 2016 Kadyrov was first elected to this post before in 2007 and 2011 head of Republic appointed by the President of Russia through the procedure of approval of the regional Parliament.
Comments
comments