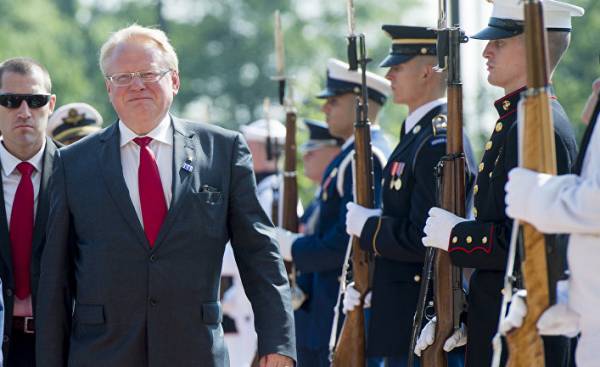 Sweden is traditionally considered to be a neutral state, but after the annexation of Crimea and Russian aggression in Eastern Ukraine, she began not only strengthen your defenses, but much more actively cooperate in military matters with other countries of the Baltic region. Last week during a visit to Riga Minister of defence of Sweden Peter Hultqvist in an exclusive interview with Ir said, how his government reacts to the growth of the Russian military threat.

Ir: To what extent has increased the threat to Sweden in 2014?
Peter hultquist: We never talk about that risk. We're talking about the real situation. Reality is Georgia, Crimea, aggression in the Ukraine, a large-scale military exercises, increased military potential of Russia, reinforced espionage and other activities in our region. It is a reality. In this regard, the Swedish Parliament decided to increase our military potential. By 2020 we will invest 17 billion kroner (1.8 billion euros) in new weapons systems, we transform the organization, the exercise will take place at a higher level. Our focus has changed from international operations for national defence.
A very important element — the provision of military capability on Gotland. Place a mechanized company and a tank company, in 2018 there will be an air defense system. At the airport "Visby" are a rapid reaction force, and the division of the fleet near the island. Gotland is our priority. It is also a very important signal to the Baltic States. Control of Gotland is of great importance in securing access to the Baltic sea and the air. We are taking on greater responsibility for the situation here, and we must do it together with other countries.
— The Swedish government has sent a letter to authorities that they were ready for a military conflict. As a society reacting to this?
We are building our organization of total defence, to the civil support the military system and to enable it to operate at full capacity in the event of a crisis. During the cold war we had a very strong system of total defence, then it was reduced. In the new situation it is necessary to build anew. We have educated employees of local governments, so they understand the importance of civil defense. Increasingly involve civil control in military exercises.
— From next year Sweden will resume compulsory conscription. How it will work?
In the middle of this year all 18-year-old will have to register online. Will select approximately 12-13 thousand, i.e. 12% of all young people in the relevant age group. Four thousand of them will become soldiers of compulsory service, it applies to men and women. Will be trained by 9 months. Then the part will become a professional military, others will be sent to the office as the soldiers of mandatory service and will be activated for exercises.
— How will the selection?
— With the help of interviews. Will be evaluated by the personal goals of young people and the needs of the armed forces. We need it, because professional service does not provide sufficient power for all army units.
— Earlier in Sweden everyone had to serve.
— Yes, it was not until 2010, but in the end only about 8 thousand recruits served. However, it was also the time when he was almost all young men.
— Have you discussed the possibility of a return to such a system?
Now we are not at this point of the development. Start with a system that will allow you to carry out Parliament's purpose. Now I can't say what will be the next step.
— How the population responds to these steps?
— Generally positive. I have not noticed any big debates about the direction in which we are moving. We have broad support both in Parliament and in public opinion.
— Do you feel "ordinary people" that the threat to Sweden is increasing?
— People see that the situation in the field of security is changing, they influenced the events in the Crimea, in Ukraine and around us.
— What are the main areas of cooperation of Sweden in the field of defence?
— Deepening cooperation with Finland. Joint exercises and "planning for the situation after world" how to deal with this crisis. Is an in-depth exchange of information. Every week there are joint exercises of the air forces from Norway and Finland. We also have agreements with Estonia, Latvia, Lithuania and Poland. Increasingly have to think about security as a regional responsibility in all our countries. I can't imagine a scenario in which we all would not be immediately involved if something happens. A very important joint exercise, they create an experience that will allow to unite in the event of a crisis.
— In 2009, the policy of Sweden in the field of security was introduced the principle of solidarity, according to which Sweden cannot dissociate if there is an attack on any EU member state or Northern Europe. What will this mean specifically in the case of an attack on one of the Baltic States?
— We are a member state of the EU, and paragraph 42.7 of the EC Treaty provides that, in a crisis, you must help other EU countries. We have already done, for example, helped France after the terrorist attacks. The particular form of the action depends on the crisis, and it is impossible to know in advance. If something happens close to us, then, of course, be helped, but I can't say how. If we work hard and take part in joint exercises in peacetime, we will be better prepared to cope with various situations. Our goal is to create stability in the region, to raise the threshold, [which will have to cross the aggressor], and thus to avoid crisis.
Sweden cooperates closely with NATO, and now you are to some extent integrated into the military planning of the Alliance. Russia's actions clearly demonstrate that in case of conflict it would not consider Sweden a neutral state. So, now we have associated with NATO risks but no guarantees of NATO. Not logical after all, to integrate into NATO?
— If we change its security doctrine, it also significantly change the security environment. It will also cause a lot of pressure on Finland and on her choice for the future. The Finns long border with Russia. In my opinion, this will create more tension. We do not think that this is a viable situation. On events in Russia need to see a clear view, to develop their abilities, deepen cooperation with Finland and all other countries should be a partnership with NATO, but we don't want to change our security doctrine, because it will have consequences. We need to reinforce the capacity and ensure collaboration with other States in practice, and not to divide society struggle over the accession to NATO. In my opinion, the current government's position is widely supported by society.
— But what is the meaning of neutrality in this situation?
— In connection with accession to the EU we are sticking to the policy of neutrality and the policy of not joining military alliances. I think that our position is respected. However, if we were not willing to invest 17 billion crowns and to do everything necessary to strengthen our defense, we would be in a problematic situation.
— What are the main forms of military cooperation with Latvia?
— Teaching is very important, we get to know each other. It is necessary to operate in the information sphere, we are members of the Center for strategic communication NATO.
In Europe there are concerns that trump could weaken U.S. support for NATO. Does it make you?
— We have with the United States signed a Protocol of intent on cooperation opportunities, and in this respect we see no change from the US. I have no signals that something must change, and I don't want to make guesses. The transatlantic link is important the United States play an important role in maintaining the balance of power in Europe after what happened in Crimea and Ukraine.
— To what extent are you concerned about the threat of cyber attacks?
— Their number has increased in the past year have occurred in Sweden, about 100,000 cyber attacks. That's a lot. They are directed against private companies, against public administration and against the rest of society. Our policy in the field of security identified the need to improve the system of protection against cyber attacks, but we also plan to develop an active cyber capabilities.
What does it mean?
— (Laughs). This means active cyber capabilities. Understand those who need to understand.
— Your Prime Minister has warned that it may occur interference in elections as well as in the United States. What you plan to do in this area?
— Russia finds the information sphere environment of military operations. It is a reality, and in this sense we should be doing more, should be a comprehensive strategy. You want to analyze, and it is important to publish information on progress in this area, thus amplifying the understanding among people. Openness is very important, because we are not an authoritarian state. We are a democracy and want to be an open society, and therefore, against these trends we have to fight openness. It is necessary to pull the trolls to sunlight — then they disappear.
Comments
comments