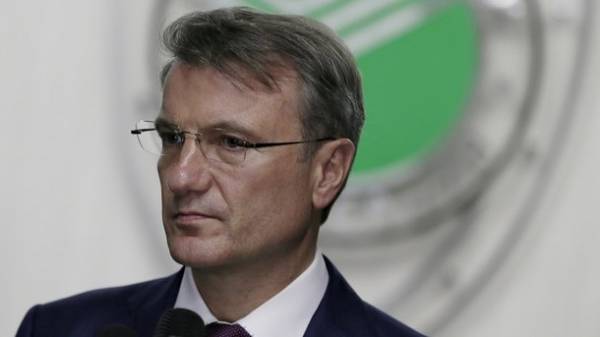 A quick choice of the buyer "daughters" of the Russian Sberbank in Ukraine is associated with the fact that interested in selling it wasn't a lot of options, the recognized head of the Russian Bank German Gref.
"There wasn't a lot of candidates, frankly," explained President and head of the Board of Sberbank, the Agency RBC.
Gref also said that for the necessary for the implementation of the transaction the approval by regulatory authorities of Ukraine, the savings Bank intends to apply this week.
"About Latvia it is necessary to ask the buyer", — added the head of Sberbank.
As reported, on Monday, Sberbank announced the sale of 100% shares of the Ukrainian subsidiary Bank to a consortium of investors, which will include the Latvian Norvik Banka (owned by businessman Grigory Guselnikov) and Belarusian private company, the relevant legally binding agreement has been signed. Later Norvik Banka announced that the main buyer of the Ukrainian subsidiary Bank Sberbank will be the son of the owner of the oil company "RussNeft" Mikhail Gutseriev said. Sberbank has announced that the deal will be closed in the first half of 2016.
While Sberbank in Ukraine will be known after the completion of the sales process – apparently, it will carry the name of Norvik Banka.
The newspaper "Kommersant" with reference to sources reported on Wednesday that the amount of the transaction could reach $ 130 million on October 1, 2016, the Ukrainian capital of Sberbank was equal to about $ 140 million.
Thus , the NBU has not yet received official notification from the prospective investors on purchase of Ukrainian "daughter" of Sberbank. The national Bank also has not received the relevant documents for the acquisition of substantial participation.
Comments
comments