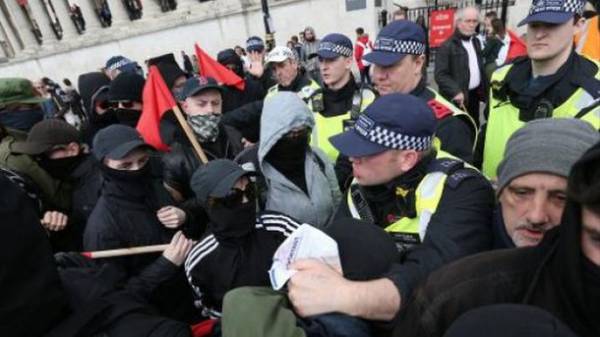 UK police have detained 14 participants of the clashes, which took place on the March against terrorism in London. It is reported 112.ua with reference to the British newspaper the Times.
A March against terrorism organized right-wing radical organization "English defence League" and "Britain first". In total, the March which started from Trafalgar square, was attended by about 300 people. To prevent the event tried a group of anti-fascists. The police were forced to build a living barrier to the protesters, to prevent a mass brawl. Moreover, the clash of extreme right-wing activists with the police occurred on the street, wythall, near government offices.
The action was devoted to the incident of March 22 terrorist attack at the Parliament building of the country. Participants in the March against terrorism chanted anti-immigrant slogans and demands "to clear the streets from terrorist scum." The organizers called on participants to "stand together and show that we will never bow down to terrorism".
Recall that the number of victims of incident has increased to six: among them four civilians, a policeman and attacks.
It was noted earlier that anti-terrorist forces in London have arrested two people on suspicion of involvement in the terrorist attack in the city centre.
Recall that the attacker, whose name was Khalid Masud, March 22, crashed his car into a crowd of people on Westminster bridge in London, killing three and injuring dozens of people. After that, he was bludgeoned to death with a knife police in the Parliament building. The police shot him.
Comments
comments