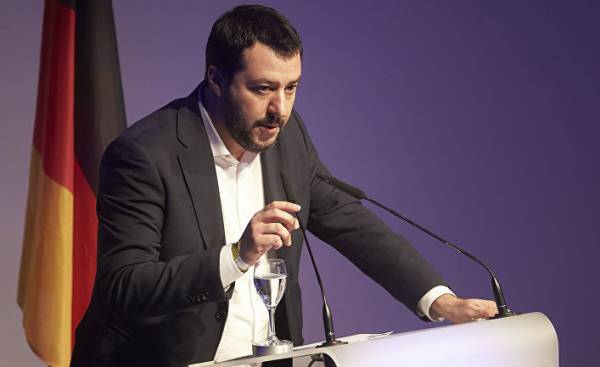 In Moscow Russian opposition leader and presidential candidate Alexei Navalny was arrested during the protests against corruption. Secretary of the Northern League Matteo Salvini (Matteo Salvini) is in any way outraged, on the contrary, he praises Vladimir Putin.
Stampa: You continue to appreciate its merits after what happened on Sunday?

Salvini: I stand for freedom of thought. I have always advocated for sanctioned events. As far as I understand, this action was not sanctioned.
— In your opinion, is this enough to arrest the opposition leader who is acting against Medvedev and President Vladimir Putin?
— I conducted surveys and made enquiries about this character. Bloggers who oppose Putin are issued for opposition leader. According to some estimates, it supports more than 3% of the population, it is one of many of the opposition to Putin. It is as if in Italy Fratianni Nicola (Nicola Fratoianni, politician, Secretary of the party Sinistra italiana — approx. ed) was considered a member of the opposition, Renzi.
— You do not mind the position of the Russian government?
— No, on the contrary. If he is considered a dictator, it makes me laugh. I can tell you only that this year Russia will develop more than Italy. And, moreover, I envy belong to the Russian tax system, because in it there is a single tax.
— So long live the "mode" of Putin?
— I repeat, in Russia six months ago, the elections were held. 48% of Russians voted for them, the Parliament was democratically elected. In addition, a few days ago, one study conducted close to U.S. Institute showed that the index of popularity of Putin is about 85%.
— Who would you choose between Putin and democratic Europe?
— How can I choose this Europe, where the Commission not elected by the people where a President of the EU Commission, Juncker as, deals exclusively with the interests of banks and multinational companies?
— So you put all your chips on the Russian President?
I appreciate Putin has done the work. It seems to me that the same items Express marine Le Pen (Marine Le Pen) and Francois Fillon (François Fillon), the French Berlusconi. Then we must not forget that Renzi asked to withdraw from the Russian sanctions. It will take a few days, and we learn that the Minister Alfano (Alfano) also wants to appeal to Putin.
— On the anniversary of the signing of the Rome agreements you chose Lampedusa. You never regretted it?
— Sorry? This has caused me only sadness. They signed a blank document, which says nothing. In my opinion, it's a shame for the 27 heads of government.
Comments
comments