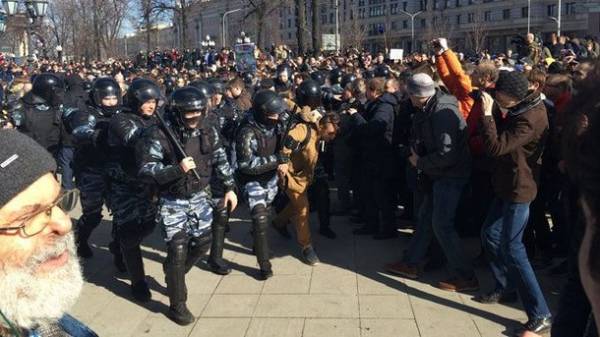 In Nizhniy Novgorod (Russia) after held in the city of the rally, law enforcement officers made five of the parents detained during the rally of underage students reports for "default of duties on education of minors" (article 5.35, Administrative Code Of Russia). About it reported in a press-service of the municipal Department of internal Affairs.
Just as explained in the Department, to police departments after the meeting in Nizhny Novgorod were delivered to 44 people. 39 of them, according to the representative of the Ministry of interior, was "the protocols of administrative offense under article 20.2 of the administrative code of Russia (violation of the established order of holding meetings, rallies, demonstrations, marches or picketing)", after which they were released.
Concerning five participants of the action, the issue of attraction them to responsibility for "disobeying the lawful order of a police officer" (article 19.3 KoAP Of Russia).
As explained by the managing partner of the bar "starinsky, Cartago and partners" Vladimir starinskij, minors bear some responsibility for "violating the rules of holding rallies" (V. 20.2 KoAP of the Russian Federation) only in the case that they "reached the age of 16 years."
"If the teen is younger, it is the sole responsibility of the parents or other representatives under article 5.35 of the administrative code of Ukraine (improper performance of parental duties on education of the child)," — said the lawyer.
In addition, starinsky said that minors under 16 years of age, are liable only if the proved fact of their offense.
The same thing, according to him, it's about the parents who had to provide evidence of the guilt of their children, in particular, the testimony of witnesses, audio and video recordings, as well as reports of police officers.
Moreover, in the case of parents, they have to prove a causal link between how they raise the child and the fact that he was an illegal rally.
As reported, the protests in Russia are connected with the publication of investigations of the Fund of struggle against corruption on undeclared property of the head of the government Dmitry Medvedev.
Sunday, March 26, more than 30 thousand people took part in the anti-corruption actions across Russia, excluding Moscow and St. Petersburg. In Moscow, under the informal data, the share reached to 30 thousand people, according to police – 8 thousand, in St. Petersburg – from 5 to 10 thousand.
The number of people arrested at rallies in Moscow, according to the revised data, has reached more than a thousand people. Among the detainees are minors.
It was also reported that during anti-corruption rallies in Moscow, the police detained the journalist of "echo of Moscow" Alexandra ivy. Also arrested was a journalist for the British newspaper the Guardian Alec LUN.
Comments
comments