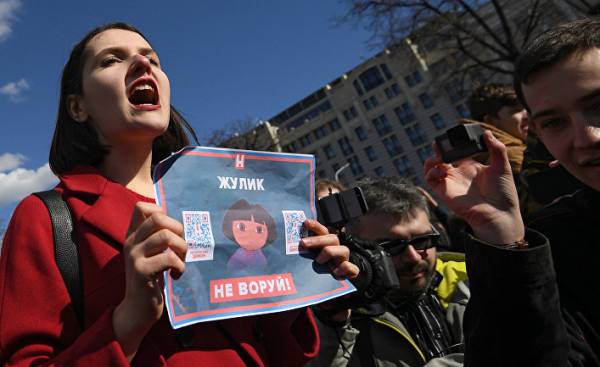 #Dolotin, #Russianestonian, #Putinar — these slogans and hashtags launched by the Russians, released on Sunday at demonstrations in more than 80 cities. They protested against corruption and demanded the resignation of the head of the government Dmitry Medvedev, despite the fact that most of the rallies had been agreed by the authorities.
Intelligence agencies had warned the demonstrators that those breaking the law. Tens of thousands of people gathered at rallies on the pattern of Moscow, as before, began to disperse the force and arrested hundreds of them. Among the detainees were the opposition leader Alexei Navalny, a leader of the movement "Against corruption in the ruling elite" (the Fund of struggle against corruption — approx. ed.). Prior to that, he published a report in which he accused Dmitry Medvedev that he heads a real estate Empire, sponsored by the oligarchs. In turn, the supporters of President Putin have taken to the streets with red flags under the slogan "No to Maidan".
Alexei Navalny opposes the policies of the Kremlin and aims to compete with Putin in the presidential elections of 2018. Today he arrived in the center of Moscow, surrounded by thousands of supporters. At this time the European Union demanded an end to the suppression of peaceful demonstrations, the United States has condemned the arrests, calling them a threat to democratic values. But the Kremlin has not responded to these appeals, considering the protests illegal and "provocative".
The worsening economic crisis
The cause of the incident was described by the expert on Russia, the Secretary of the Society of Russian-Lebanese friendship Yousef Apostates. He said that "since the beginning of the events in Ukraine, began an economic blockade of Russia by the West. To the exhaustion of military and strategic resources in the East of Ukraine has added the Syrian war, which has lasted longer than expected and the Russians. Putin's plan has been calculated that the Russian forces out of Syria four months later, however, the operation is gonna go on for years. This places an additional burden on the already difficult economic situation in Russia in light of falling oil prices. This led to inflation, which in turn determined the exchange rate: over the past two years the Russian rouble has depreciated more than 100%. This led to the reduced purchasing power of Russian citizens and the growth of unemployment".
Comments
comments