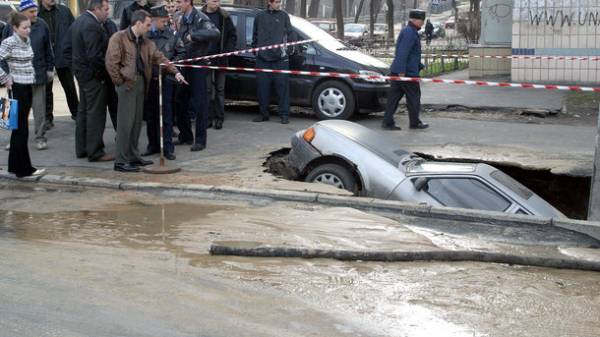 In Ukraine, every year the pits on the roads is increasing. Road builders explain all the difficult winters and shortages of money. Meanwhile, the total area of the road of Yam in the country had reached the square of the city of Zhmerinka of Vinnytsia region – 18 sq km In 2017 for patching will allocate 2 billion – but will they suffice? The website "Today" to understand, why Ukraine can not abandon patching and making "Ukravtodor" to bring the country's roads in order.
Why on Ukrainian roads has many holes?
Winter, trucks and lack of money are the main causes pits on the roads. When water penetrates the asphalt and freezes, it destroys it. According to the acting head of "Ukravtodor" Slawomir Nowak, for example, this winter the temperature is 53 times, "went" below zero.
"It was the hardest winter in recent years – more than 50 of transitions "through zero". Everyone knows what happens to water at freezing temperatures. Road builders say that the main enemy of roads is water in sub-zero temperatures".
Another reason for the emergence of Yam – heavy trucks. According to the Ministry of infrastructure, only 26% of roads in Ukraine can withstand the weight of 36 tons. Most of the tracks are designed for weight up to 24 tons, which fit the norms of the last century. Now ride on our roads trucks weighing 35-40 tons. Until 2016 in Ukraine is practically not carried out weight control, although he was declared by law. In "Ukravtodor" only working to increase the fine for the overweight and strengthen the control. Frosts and trucks has led to the fact that 40% of roads in the country is completely destroyed and need to rebuild from scratch.
Besides, in 2013 the country more and more wells were left without fixation: in 2013, Ukraine is not repaired 0,3 sq. km Yam, and in 2016-m – 4,6 sq. km estimates of Ukravtodor, this year without repair will remain a 6.6 sq km is larger than the area of the city of chop in the Transcarpathian region – the most Western city of Ukraine.
Comments
comments