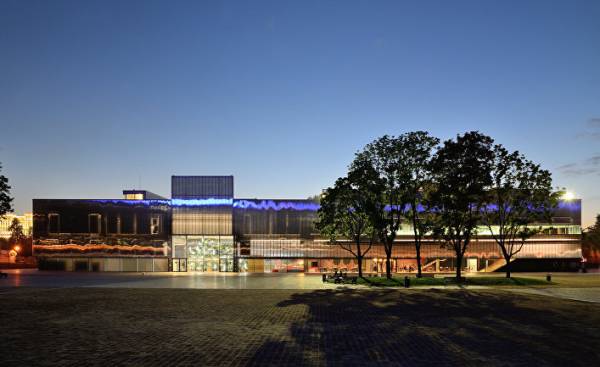 During the stay of Putin in power has never in Russia did not see such a large collection of socio-critical and challenging works of art.
Faith of the Russian art group "Gentle women" around the chest. Squeeze a few drops of breast milk, she defiantly shakes them. Young people in Moscow "Garage" with interest video installation, while a squirt of breast milk covers the screen.
Some smile and shake their heads, others look serious and clearly understand the message of the Faith: Russian women should not be allowed to turn themselves into machines for delivery in the service of the Patriarch and the President.
"Gentle women" refer to 60 contemporary artists from all over Russia, from Kaliningrad to Vladivostok — the first and biggest "Triennale of contemporary Russian art".
Not once during the stay of Putin in power the people of Russia have not seen such a large collection of socio-critical and challenging works of art.
The art that I hate authoritarian and religious people
What does a person do when society is slipping into authoritarianism and ultra-conservative and nationalist politicians who determine what is true art?
"Above us is the sky of the snow. Inside we are ruled by the laws of the taiga" — meets Tobolsk artist Damir Muratov, one of his art posters. The Russian taiga is the deserted forest belt that stretches across Russia from West to East.
Most contemporary Russian artists survive due to the fact that paint a Church, animals, people and landscapes. This is what I want rich Chinese tourists and the state.
Thus, the six curators of the "Garage Museum of contemporary art" across 11 time zones went to 40 cities across the country to look for works of contemporary art created after Putin has further strengthened his control over Russia in 2011.
All funds one of the richest and close to Putin oligarchs Roman Abramovich.
Recreating Picasso in the year 3111
Exhibition in Moscow's Gorky Park shows how many contemporary artists create their own fantasy world, opposed to the insanity of the existing society.
Alexander Bayon-the Gnutoo from Saratov makes grimoires, books of magic with religious texts and magical symbols, which no one but he can't understand.
One of the leading contemporary artists of Russia Pavel Pepperstein mocks Russia's myth-making, reviving Pablo Picasso in your own body in the fantastic year 3111.
At the exhibition visitors can see the video revived Picasso and scholars that enliven it, to read his biography and see his new works.
Forward into the dark future!
At the Triennale also presents "artists and activists" Artem Loskutov and Ivan Durkin from Novosibirsk.
Since 2004, they use a completely different strategy: they organize "demonstrations" on the streets of big cities of Russia.
Last year, the "monstrance" walked with absurd and apolitical slogans like "We are you!", "Forward to the dark future!", "Long live the East!" and "We demand simple slogans!"
Loskutov and his colleagues get arrested or fined from year to year, but they manage to collect up to five thousand people.
Omsk "Creative Association of Nadya" he creates dresses, bags, cloth and other cloth items they are decorated with political slogans about the struggle of women for equality.
Models that Anastasia Potemkina uses in his watercolors, women with big wounds and injuries that they inflicted on their husbands.
"Urban feminist" Juliana Bychkova produces leaflets with tips on "how to return home alive with disco."
Master of Kazan
"There is nothing left from the center of Kazan, where I grew up," says the artist Ilgizar Khasanov, one of the few known contemporary artists of Russia.
"All — new. Bureaucrats demolished all. Nobody asked me" — ironically he said.
Therefore, Hasanov is trying to capture time.
He uses everything from paintings to new forms of creative, multimedia and installations. In the trilogy, "Woman, man, red," he collects the rest from the people who lived earlier, bypassing the markets, garbage dumps, and when visiting private homes.
Pieces of old toys, buttons, pictures, bags and clothing together in one new entity, becoming a woman and a man in the all-encompassing red.
"This is not nostalgia. This is a story about this memory. I do not feel any nostalgia for the Soviet Union."
At home in Kazan, he managed to build one of the very few centers of contemporary art in Russia — Art centre "Change".
Back to home
One of the most controversial works of art are "Rooms" Chechen Aslan Gaisumov.
He collected old street numbers of his native city Grozny and made them one. Empty rooms show homes that have been destroyed by Russian bombs.
The artist Vladimir Seleznev from Nizhny Tagil to pay money to the homeless, so they collected things for him to garbage dumps, and built a replica of his native city.
City of garbage painted fluorescent colors so that it becomes alive, beautiful and pulsating when the room lights go off.
One of the great new artistic talent, Russia is Kirill Garshin, 28. He is from Voronezh.
He draws the broken Windows, trees, street signs, air conditioners, fences and the old walls of the houses.
These paintings are about completely empty, poor, uneventful life of a provincial town, but they offer beautiful shapes and contrasts of ugly.
The approval of the authorities
"Outside of Moscow, we found a fantastic and diverse art, whose existence we do not know", — said the Director "Garage" Anton Belov at the opening of the exhibition.
She's always full of people and has already achieved significant results: last weekend the First state, the channel showed a news report from the "Garage" about contemporary Russian art.
"Where is the line between art and bullying?— asked television channel. And he said: — One thing is definitely. Here, never a dull moment".
"It is particularly interesting that the Russian artists are today the most radical of creative activism", writes "Kommersant".
Comments
comments