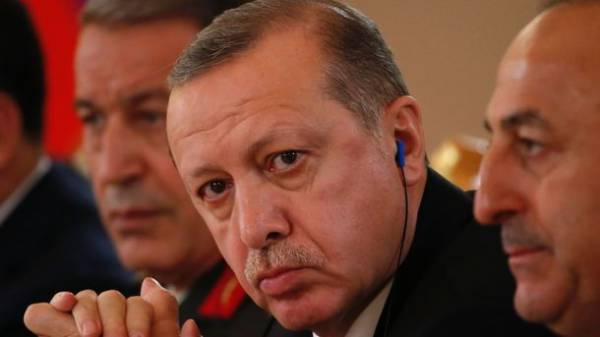 Turkish President Recep Tayyip Erdogan promises to repay the Netherlands after Amsterdam banned the landing of the Turkish foreign Ministry, which was to be held in Rotterdam campaigning for the referendum, reports "Radio Freedom".
Erdogan has called the Dutch "the remnants of the Nazis" and "fascists".
As reported previously , it withdrew permission to foreign Minister of Turkey Mevlut Cavusoglu on the landing of his plane in Rotterdam.
Earlier on Saturday, the mayor of Rotterdam Ahmed aboutaleb said that Mevlut Cavusoglu is not allowed to campaign for the referendum among the Turkish community during his visit to this city.
Cavusoglu, in turn, said that still come to Rotterdam for a meeting with voters.
Four planned action of the Turkish politicians was abolished in Austria and one in Switzerland.
After the cancellation of a similar meeting in Germany, President of Turkey Recep Tayyip Erdogan accused Berlin in the "practice of Nazism."
As you know, relations between Turkey and the EU deteriorated in recent months, after the West started to accuse Ankara in suppressing the opposition, which increased significantly after attempting a failed coup in Turkey in July 2016.
Recall that a referendum on proposed changes to the Turkish Constitution about a sharp expansion of the powers of the President scheduled for 16 April. Ankara urged to attend and to vote for Turkish citizens living in other countries.
The proposal, which the Turkish Parliament has already adopted in January, should transform the country from a parliamentary Republic in the state by the President-Chairman of the Executive and provide him the right to issue decrees that are binding, impose a state of emergency, to appoint Ministers and other prominent government officials, to dissolve the Parliament.
In addition, if approved in a referendum a reform would mean that current President Recep Tayyip Erdogan, who is seeking its introduction for myself, will have the right to remain in office until 2029.
Erdogan argues that reform is necessary for stability in the current turbulent times. Critics fear that changes will result in a further decline of democracy in the country and the strengthening of the authoritarian regime of Erdogan.
Comments
comments