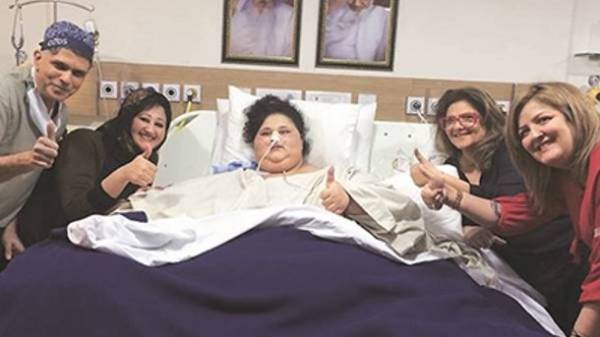 Egyptian eman Ahmed AB El ATI, is considered the heaviest woman in the world for three weeks in the Indian hospital lost 100 pounds.
A patient with dysfunction of the glands were put on a strict diet, which involves consumption of liquid food, rich in proteins and dietary fiber. Later, 36-year-old Egyptian woman would survive the surgery to reduce stomach.
It is expected that thanks to surgery, diet and physiotherapy female for six months, will drop another 200 pounds. By the end of treatment she needs to re-learn how to sit and make their own food, reports Hindustan Times.
Because of the disease organism eman Ahmed AB El ATI accumulates too much fluid. In addition, she suffers from elephantiasis caused by parasitic nematodes. Weight eman Ahmed reached 500 pounds, when she was 11 years old. She lost the ability to move and since then never left his house in Alexandria.
The Egyptian was brought to India in early February, 2017. Foreign Minister of India Sushma Swaraj has helped eman to get a visa, because the 500-pound woman could not come to the Embassy to go through bureaucratic procedures.
Comments
comments