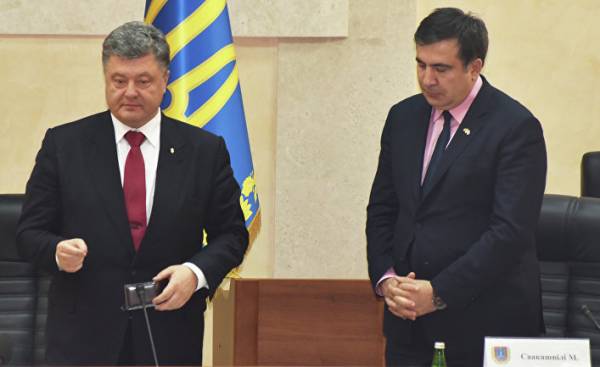 Mikhail Saakashvili is a politician phenomenon. However, the attitude to this phenomenon in Ukraine varies from time to time. During its presidency in Georgia, he was perceived as a successful reformer, the Creator of the new state and a personal enemy of Putin — love from a distance is always easier.
In Georgia, Mikhail Saakashvili, was a political heavyweight. In Ukraine it has yet to become one. He appeared in the country not so long ago — in may 2015, succeeding as a Governor Igor Palitsa, a close to the oligarch Ihor Kolomoisky. Along with it fully updated and the top regional authorities. On change to officials of the old school in Odessa gathered people with the image of the romantics new wave — Sasha Borovik, Maria Gaidar, Yulia Marushevska.
At first it looked like an eccentric Governor is allowed to do anything. At first the nuts was given to the local law enforcement and tax authorities, and then with the tacit consent of the President, a barrage of criticism covered and Kiev officials — the head of the state aviation service Denis Antonyuk, the Prime Minister of Ukraine Arseniy Yatsenyuk with his numerous entourage.
But once the rhetoric of the Saakashvili touched upon the immediate environment of Poroshenko, the idyll between them quickly faded. Immediately cheered and the local clans, who openly squeezed the team of Saakashvili in Kiev.
The amplitude of this attitude to Saakashvili in Ukraine ranged from delight to irritation, from full support of the charismatic speaker's criticism of the government to an absolute rejection and accusations of indiscriminate populism. Passing the Governor's post and obviously missed the right moment to move in opposition to the beginning of 2017 Saakashvili managed to quarrel seems to be with all the leading players of the Ukrainian political market.
But he does not give up — he calls himself a non-si Ukrainian politician, hopes to become "the founding father of the new Ukraine", officially registered the party and is waiting for the elections. In an interview LIGA.net at the table with a bust of Ronald Reagan, Saakashvili tells how to develop his new Ukrainian party, why no use Trump's offer to sell the Ukraine and why did Poroshenko two years ago and now, as they say in Odessa — two big differences.
LIGA.net "the movement of new forces" ("new forces" — approx. ed.) is officially registered as a political party. How do you see its role and place in our current political system?
Mikheil Saakashvili: In today's political system, our party place is definitely not. But we have to create a new structure where it will lead. We are not looking for allies among the big names, we are looking for huge number of local groups in many regions of Ukraine. Every day I meet with local activists, enthusiasts. Often it is those who are represented in local councils, the councils of the United communities, but not tied to any party. We need them as representatives in the regions, and we need them as a political platform. They need a national brand with which they can Express themselves, both at the regional and national levels.
— Emphasis is on anti-corruption activities?
— Not only. We want everything to change. For example, in Romny, Sumy region came to us a group of guys who have won local elections are non-partisan young activists, economists, volunteers. We also work in several other areas. Now we're picking teams on the ground. We already have many tens of thousands of active registered members, open the local cell.
— Where do you find funding?
— Everything is done at the expense of local small business who support us. We have no obligations to them. Moreover, they take responsibilities to us. We carefully go over the people and see that there has not crept in former corrupt officials, to our name didn't cover some bad things.
In June 2016, it was stated about the unification process of a number of democratic and anti-corruption forces — democratic Alliance, a separate policy of Self-help, the Georgian reformers, MPs and journalists from BPP plus public sector. Why large enterprises have not occurred?
— I was not ready to organize a party last year. We had a movement for the purification, which was a clear goal — to get rid of Arseniy Yatsenyuk, to get rid of Shokin (former Prosecutor General Viktor Shokin — approx. ed.) and start serious reforms. The first part was performed — the two officers left and we received a promise of reform. A new government, which was under the banner of reform, at least, Groisman said that they will conduct them. Naturally, we stopped the movement for the purification, canceled a number of events and halted the activity. As promised. We did not prevaricate.
That is, the Association of parties and is not supposed to?
— No, I do not promise. In the direction of the political party I started to work only after it was convinced that the second part of our demands — reform — fails.
— What's the story with the project "Hvilya"? For example, MP Viktor Chumak said that they were preparing an organizational platform and was waiting for your joining to her, and you, he says, disappeared.
— Yes, Chumak, KASKO and so on — they organized… I always said it would be "hvilya", meaning a wave of new ideas, rules and people, but never said that "Hvilya" — it will be such a party. But they liked the name, they began to work, the process was associated with me, but I never any of the obligations of the party were not given, though friendly with them. They have great potential. But if I want something to do, I do it myself, and not under "political offshore." They are all good people, and I think in the end, we still all come together on a more broad platform.
And your recent meeting in Lviv cafe with Andrew Garden and Vasily Gatsko is a trolling Bank?
— No. We communicate, we have planned a number of joint events with Gatsko and Dimalanta, with Garden, Gritsenko, (Gromadyanskiy position leader Anatoliy Hrytsenko — approx. ed.) with the party Will. We are on the same side, and we have common values. I for them a very useful partner because I cannot and will not compete for some positions, I have no Bonapartist, the sole leadership ambitions. And never did. I'm limited constitutionally to those that can't run for President and can't be in Parliament. Because I'm a good partner. Besides, I don't need to — if they had, things would have been different. I Poroshenko twice offered to be Prime Minister.
— When was it?
— At the beginning of the anti-corruption movement and a little bit in the middle of his work. That is, in the fall of 2015.
— So, Poroshenko offered you the post in order to your hands to remove Yatsenyuk?
— No. When it became clear that Yatsenyuk may be shot down, they were looking for different options, and offered me the post of Prime Minister. To which I replied that in the current situation, I refuse, and advised the President to go to early parliamentary elections. I tried to convince Poroshenko thus renew the political class, but, unfortunately, he did not go on this way. Apparently, I demanded the impossible.
— How did it happen that you, with your experience, used?
— I do not think that I have used. Moreover, I believe that to get rid of Yatsenyuk — was useful. It is mired in corruption and nothing useful for the country did not. He even more than Poroshenko is guilty in the absence of reforms, because he had a direct leverage on the economy. He had a chance to change the country for the better, the more, we cannot say that he does not know or can not work — he knows his stuff. The fact of the cynicism that unlike the government of Yanukovych, Poroshenko and Yatsenyuk know how to do better, but deliberately do not. Yatsenyuk chose to be a reformer, a cynical servant of the oligarchs, that's the whole story.
— Anyway, why did you say that you have not used if you have Yatsenyuk and Poroshenko still normal relationship, and you were in deep opposition?
— Yes, Yatsenyuk and Poroshenko together regularly meet with Akhmetov, they are fine. This cabal. I'm sorry Groisman, becoming Prime Minister, also did not want to take the initiative and carry out reforms.
— He's a man Poroshenko.
— I do not think so. Just Groisman, apparently, is not enough scale to go for drastic changes.
— You have a relationship with Parks?
— Not really, but from time to time in correspondence. I tell him about the things that you see in the regions, but no reaction in response I do not watch.
— When and what you last spoke with Poroshenko?
— Two days before my resignation from the post of head of the Odessa regional state administration. Poroshenko said: "if you're so unhappy that I'm not supporting you in the fight against Trukhanov and the local clans, maybe you'll be Ambassador somewhere in Southeast Asia?
— It was a joke?
— No, he quite seriously suggested. Decided that I'm tired, and I'd like to rest somewhere in Thailand. I told him that I would fight to the end.
— You don't believe that for a successful start of his own political project, it was necessary to leave the office earlier — in the late fall of 2015, when was your highest rating?
— I play by the rules. And resigned from the post only when all the possibilities to change something for the better have been exhausted. Besides, for the time when I was in Odessa, I managed at least to do something to budge. Finally, I got money on the route Odessa-Reni. Of course, for the country as a whole is a small project, but the residents of Odessa region, looking into his eyes, I can say that I did it. This year the route will finish. I was really hoping to finish the project Open customs area, and we almost brought to an end, but then the government killed him. I mean, I had specific things I had obligations to young people who were brought to the area. I didn't want they said they tried to do something, but I first gathered, and then left due to some personal rating considerations. I worked together with them to the end until saw the future.
— Why are you only critical of Yatsenyuk and Poroshenko began to speak only after retirement? Poroshenko in fact, he hasn't changed, but until recently a single word of criticism from you about it was not audible.
— It was fair. Besides, we can't say that I'm not criticizing. When I attacked the Peloponnese, this is for Poroshenko it was very unexpected.
— But it is still mediated, personally Poroshenko is not concerned. About Kononenko you didn't either.
— Kononenko said. The first anti-corruption forum in Odessa, I talked about Kononenko, Poroshenko was very offended. The only one I didn't touch is Poroshenko personally, Yes. But it was honest. Unfair did Poroshenko, who pretended that he wanted to get rid of Yatsenyuk and actually wanted to slightly change the configuration of power in their favor. Because of that, the first time the resignation of Yatseniuk to save Poroshenko. Remember, when Parliament gave votes for the resignation of the Prime Minister.
In 2014, the year you are strongly praised Poroshenko. In particular, in his column for Politico, you said: "Poroshenko is the one who needs Ukraine", recalled that familiar with him more than 30 years and was praised for what he esplatnoe a state monopoly. You called it "rational politician" and "suitable for the role of commander-in-chief". But it's been three years and you have dramatically changed the tone, being deprived of the post of Governor of the Odessa region.
— Together with me as thought the majority of Ukrainians, because Poroshenko for the first time in the history of Ukraine and defeated in the presidential elections in the first round. We all scepticism towards the political class of Ukraine in General hoped that Poroshenko uses for the benefit of the country provided him a chance. He was intelligent, pragmatic and educated others. This time. Secondly, you need to understand what Poroshenko was talking about reforms, and he began some reforms. This can not be denied. He started the police reform, the service sector began some deregulation. On the first of the National councils of the reforms was a really interesting discussion. He was invited to the country many people…
— Including you.
— No, I came without his invitation, but Poroshenko has asked me to bring people who are able to carry out reforms. So Poroshenko Poroshenko then and now is, as they say in Odessa, two big differences.
— When, in your opinion, changed?
I think the rollback was started immediately after the local elections in 2015. But finally took shape after the Prime Minister Groisman. Because earlier Poroshenko said that Yatsenyuk was stopping him, and after the change of the Cabinet to say it has been impossible.
Besides, Poroshenko has even ceased to promise anything. Look at him now: he articulates his vision of the situation. Instead, he is busy with brazen establishing control over media, over corruption flows. By the way, at first he really has abandoned the practice of corruption flows from regions to the center, which has always been. Previously, from Odessa in suitcases in the administration of the President floated a monthly $3-5 million corruption money. Poroshenko initially stopped this practice.
— Control of the media, you mean?
— Look at the TV channels, I stopped to show.
— You recently gave an interview to television channel 112.
— Yes, when the leader decided to slam the door in his departure from the channel.
— So the only problem is that you do not show, or in the absence of criticism of the President?
— Criticism of the President on television like it is, but from those people who matter won't say anything. Lyashko can say whatever you want about the President, but he's not dangerous. It's like a pet parrot, which you can sometimes swear words to curse, but it feeds off of you. Because these parrots can show, whatever it is — at the decisive moment they hit the correct button.
You advocate early elections for the Parliament. You see sociology — Yes, the Alliance of power format BPP-the popular front — not what you can dream, but would it be better for the government formed the opposition bloc and Batkivschyna, even in this case the Parliament will go your little faction?
I'm sure that as soon as early elections, people will vote for new powers. Current sociology can be torn up and thrown away. The global trend is different. Trump in the beginning of the campaign was 2% rating and we all laughed. But, if the American people wanted to change the political class, then what to say about Ukraine? In politics all over the world there is a refresh request, no matter what polls we do not draw. When there are early elections, the Ukrainians will sweep away the current political class.
— The new policy, and you are a new Ukrainian politician says the same thing before every election. And with the power we still are the same person.
Right, because that new, in fact, never existed. There were different formats of participation in elections the same. Once there was a project with new people, like Self-help, the Ukrainians immediately gave them their vote. When looked new Freedom she gained a lot of. Was considered to be a Klitschko — he's also got a good result. Ukrainians are always looking for new people in politics, and now even more so. So our today's real rating should be multiplied by three.
— When do you expect early elections?
— As soon as possible. As soon as we are mobilizing people. We will not wait, because every day this government for Ukraine is a loss of time. In Ukraine the population is reduced. I was horrified now waiting for the abolition of the visa regime with the EU, though really want, that Ukrainians, especially young people, had the opportunity to travel to Europe without visas. We just lose another 2-3 million people at once, which will leave illegal immigrants.
In three years Ukraine will be a smaller population, than in Poland, whereas in the early years of independence, Ukrainians were 20 million more than the poles. Ukraine today is not run by this power, and the crisis. The government controls the media and corruption flow, but not a country.
As soon as a new political force, if it is promising, it is immediately major sponsors, oligarchic capital. This is the practice. You meet with the Ukrainian oligarchs?
— If you noticed, I quarreled with everyone almost in public. I don't recall any Ukrainian politician who so openly conflict with the oligarchs. I declared them enemies of the country.
— Igor Kolomoisky, for example, is familiar with Georgia. He's got a business.
In Georgia Kolomoisky was good. He paid taxes and was a very law-abiding. But it is in Georgia, and in Ukraine he does not pay taxes because without them all always bought.
— Your opponents have mentioned your relationship with Konstantin Grigorishin.
— Grigorishin is the person against whom we recently staged a strike in Sumy. Because of its regional companies have blocked the connection of the enterprise, which carried out the military order.
— Boris Kaufman you communicate?
— Kaufman is the only communication I have had in Odessa. Moreover, forced on my part. I was forced to build the airport. While he thought I was in power while we had the Prosecutor, the police, and he believed that Poroshenko supports me, it really is nearly completed terminal at the Odessa airport. Although also, once removed Sakvarelidze, work on the terminal has almost stopped. Now any communication with him I completely stopped.
— The building where the office of your party, the floor below is the company Vertex United, owned by Kaufman.
— When we first checked in, my friends warned about this and were told that we all will associate. I said I don't care, we're clean. I'm not going to abandon the best deals on rental office, because next to someone with whom we can then associate. In Kiev, wherever you look, everything belongs to somebody.
— Let's talk about the foreigners in the Ukrainian government. Don't you think that the experiment did not quite? Why?
— Totally agree with you. It's all facade changes. Can't pole that even in Russian, not that Ukrainian doesn't understand how to change the railroad in Ukraine. As for me personally, that's another story. I came to Ukraine very young. Here was formed that studied here. I didn't need to adapt. Even Sakvarelidze more or less adapted, but others aren't.
Why? For example, what prevented you to adapt the former head of national police Khatia Dekanoidze?
— She never was a politician. She and Eka Zguladze wanted to help, as professionals, but when at one point, "patient refused medication", they have nothing left to do but jump.
But they got a Ukrainian passport, status. In what position are they now?
— Khatia — Georgian politician, returned to Georgia. ECA, as I understand it, in France. Sakvarelidze here — he was the Ukrainian politician. That's the beauty of Ukraine — she is a hospitable and adopts everyone who wants to work here. I felt it in high school when my classmates and friends are very quickly made me forget that I'm not Ukrainian. Ukrainians know how to do that.
— You said in 2014 that the personal savings you have left nothing more than six months of living in Ukraine. You are currently unemployed, what live?
— It is. And who said I rich live? Yes, today I have serious financial problems, I do not hide it. I hope that we will build the official funding of the party, and I'll be there to get paid. Today I live not that it's not flashy, but even more modest than a good middle class, unfortunately.
Still, the sources from which the party will officially be funded?
— I have already said that regional offices we have always funded by local businessmen. Very cool people. They, unlike the oligarchs, want to restore order and life according to the law, because we support. Wherever we arrived, they pay for our travel, hotel, meals. In Kiev, too, there are some businessmen who pay for this office and the salary of several employees. And that's all. No more expenses. I would really like, for example, to publish a newspaper, and Newspapers we have. Many channels offer broadcasts for the money, this money I don't have.
— What channels?
— Almost everything. On polupoltinnik power Poroshenko channels say "Please for the money we are ready to give you ether." There are free, but it is somewhere in the regions. There are exceptions. For example, I recently said that inter me, not lights, not because they Poroshenko ordered to, but because I prevented the state to pay the debt Firtash 230 million.
— You talk about the information blockade, but at the same time LIGA.net unsuccessfully sought an interview with you even before you became Governor. And we're talking for free. Why are you so long refused?
— I apologize for that. Apparently, there was no time. Very happy now to talk to. But I'm talking about TV in the first place, Central. For me they are now closed because of their looks Poroshenko.
— About funding. When you were Governor, Ukraine has frequently appeared your colleague businessman Koba Nakopia. He is involved in the financing of your activities today?
— Unfortunately, he has a lot of money left. I would enjoy taking away funding, but such a possibility does not exist.
— You were in the leadership of the Georgian party?
— No. I even formally can not participate in the political life of Georgia. But people are not banned… in Georgia I for people more than the formal leader. I for them a symbol of something that links me with the idea and reforms..
— You have left Ukraine and returned to Georgia, if your party won the election and formed a majority in Parliament?
— No. If I live in Ukraine for several years, so I'm there for something. We need to bring our struggle to its logical end. I would like to travel to Georgia, I would like to chat with friends, but institutionally I go back there and take some positions after the elections will definitely not. In Ukraine we have a big mission.
— What is your personal goal in Ukraine?
— The question I once asked Poroshenko, I talked about this. I then said that my ambitions are higher than Prime, and all thought I mean the presidency. But still I want to change the system. I am ready to participate in the process as the batting coach. Want to find people who are able to create a new country, like Jefferson, Washington and Hamilton created the United States.
— See yourself among the founding fathers of the new Ukraine?
— For me a great honor if I'm one of them.
— You can't run from Parliament or participating in presidential elections. But nothing prevents you to run, for example, the mayors of a town, to gain a foothold, thus institutionally in Ukrainian politics and show the result there. You never thought about it?
— I understand that perfectly. But look what is happening now with the Garden, as it is hit from all sides. However, maybe my mistake was that at the time, and not stood in mayors of Odessa. Although I'm not sure that I would choose because I saw how elections are completely rigged.
But, after all, the person you have a rating higher than Sasha Borovik.
— Yes, but I saw as they believed. And then, from what party I was running. From the BPP, along with Goncharenko?
— I heard from the authorities that you offered to head the list of the PPB in the Odessa regional Council, but you said that then you need to lead a local cell of the party, and pick up Alexei Goncharenko this role, the authorities did not want.
— The first number in the list of BPP in local elections, I refused — it's true. True that wanted to lead the local cell. And refused to be in this team because there is like Goncharenko who sold places in the list and places in the commissions.
— You often criticize Ukrainian politicians, they in return give you to court. What is the situation with the courts? You lost them, like Mykola Martynenko and Andriy Ivanchuk, at least. Ivanchuk told us that you are in front of him apologized for allegations of corruption with the Odessa port plant.
That is not true. He can say anything. One: the reforms he approached me and said, "I Have no money, only my wife has that I got divorced." I said, "You have me confused with someone else. I remember that when I was the President of Georgia, you personally offered me to invest in Batumi $100 million, and I welcomed it. Then you'll say that you have no money?".
Some courts I lost. Seem to have to apologize to the Director of OPP, who is the front man, to say that he is not a thief. I can't say that he is not a thief. I can say that the judge who made this decision, he must answer for it. I'm not going to apologize for any judicial decision. It's not judges, they are as "thieves in law".
— You in General for the privatization of IPF?
— Of course. But this privatization. The SCR operates at a loss. Look at Krivorozhstal. It is the only company that does not complain about the blockade of Donbass, they pay all taxes, receive grants, carry out all social obligations. While this state-owned enterprise, it will Rob.
— It is believed that your high-profile, controversial statements on this subject are a rip off privatization.
— When the gang robs the enterprise, no one will buy. I wanted the gang out, led large international company and spent the privatization. Each public company should be sold. Where there is official, there is a robbery.
— "Plan Artemenko". You have a good relationship with the Republicans. You have no plan of Saakashvili? And what do you think about the new US President and his attitude to Russia?
— There is no plan, of course. In General, all pandemonium under the name "trump, we can help you more profitable to sell Ukraine" — minded people who do not understand trump. Trump will never trade with Ukraine will never be a Pro. Trump is a strong personality. He is the first US President in many years who said, "America needs to learn how to win the war." Putin will not be able to establish a relationship with trump. It used to look like a bully who does what he wants, and the civilized world shunned it, because I didn't want to get involved in the conflict, including Obama. For us the result of the Obama administration is Ivanishvili and Yanukovych. They came to power in Ukraine and Georgia, while Obama was playing "reset" with Russia. And trump is looking for conflict, this is his element. Putin for trump not keep up.
— Do you support the blockade of Donbass?
— I believe that people who block, are asking perfectly fair questions of power. You cannot fight with these people to make money.
— They say that you, as President of Georgia, in a similar situation not blocked the work of the Inguri hydroelectric power station, 40% of energy produced which was occupied Abkhazia.
Is the lies spread Bank. The switch was there on the uncontrolled lands. Still, it was not a trade. We just gave free Abkhazia electricity. Yes, we traded with Russia, but Russia was not in the top five of our trading partners. We bought 10% of Russian gas and could at any moment to abandon it.
— After all, coal is a complex question. From the other side of the demarcation line, our people or not?
— Yes, our people are there, but another question. Why Akhmetov buys coal in kopanky for 600, maximum 800 hryvni, and sells for 1600? Why receipts at the end for the Ukrainians formed not by the market price, and the desire of oligarchs. Not only Akhmetov is Grigorishin, there Firtash, has Onishchenko. Who can I convince that a fair payment system, when such names? Because of this, we have rates higher than in Austria. In this issue, not the people who work hard and are sitting without a paycheck. They are also very sorry. In the hands of Akhmetov's mines, generation and distribution. And we're being blackmailed by disabling that all wrong, because Ukraine exports electricity to Poland, Moldova and other countries.
— Burshtynska TPP, which supplies electricity for export, it is not possible to deploy inside the country.
— If you prepare in advance, could be deployed. It is difficult to predict this situation? To imagine that Putin might be off? If it were not dogovornyak, the issue had already been solved. In Georgia, we passed it.
And still you don't regret that then, in the autumn of 2015 failed to make the unification of all political forces and politicians on the basis of the anti-corruption movement? It already would have been a very popular structure.
— I said that I had hope for a new government that will replace Yatsenyuk. More Ukrainian people such a chance this government will not leave and will not wait. I confess that I, too, was deceived, I, too, divorced. But I'm not alone — the power of unfulfilled promises lit me with all Ukrainians. The more we do not allow.
Comments
comments