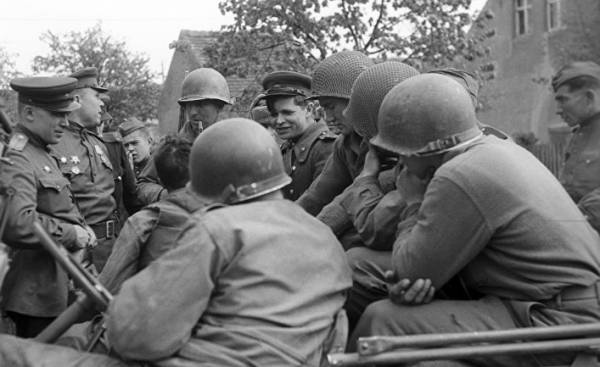 American and Russian troops are patrolling the suburbs of the same Syrian cities. This is the first example of close cooperation between the two superpowers on the battlefield since the Second world war. In April 1945 soldiers of the two armies shook hands, met at the Elbe river in Germany.
While Russians and Americans are avoiding contact, acting West of the town of Manbij. Being on the removal of eight kilometers from each other, they patrol the village, located 25 kilometers South from the Turkish border, trying to keep the warring parties from fighting.
A show of force, the two countries launched their national flags. Theoretically, they serve as a buffer between warring Kurds and the militants who are supported by Turkey. But in practice, they also demonstrate a new geopolitical proximity, which occurs between the two countries under President trump.
Once Manbij was an unremarkable provincial town. But now he has gained a strategic importance, being at the centre of multilateral Syrian conflict. Manbij are trying to take control of the Syrian regime, Turkey, the Arab rebels and the Kurds.
Russia supports the regime. And the United States, although they are Turkey's ally in NATO, but maintain an Alliance of local militias led by the Kurdish group "the people's protection Units" (YPG), whose office called the Kurdish workers party leads a guerrilla war against Ankara. Taken on Saturday the photos show how armored vehicles with the stars and stripes moving on the Western outskirts Manliga that hold U.S.-backed militias. Yesterday the Pentagon said that its troops entered there for "calm and restraint". Meanwhile, these same militias agreed to transfer under control of the village, located to the West of Manuja. Turkey has threatened to attack the city in order to expel the Kurds, but last night took a step back, when the Prime Minister Binali Yildirim said: "it is Pointless to start operation in Mandiba without cooperation with Russia and the United States."
When regime forces were in the area, they were accompanied by Russian troops, who brought humanitarian aid to local residents. Doctor Mohammed al-Hamadeh (Mohammad al-Hamadeh) said: "There is a great paradox that the Russians are delivering aid to my village of Abu al-KAF, which they bombed last month. Russian planes bombed our village February 26, when it was controlled by ISIS (banned organization in Russia — approx. TRANS.), and killed my ten year old daughter".
Comments
comments