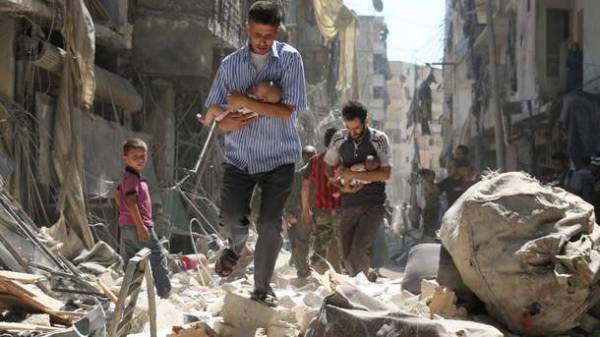 The international Commission of inquiry the UN confirmed information about the use of Syrian dictator Bashar al-Assad's chemical weapons – bombs with chlorine – the battle for Aleppo. The report of the Commission published on the website of the United Nations. The number of civilians killed or injured as a result of these attacks, the hundreds, the authors of the document, reports "the Verge.ru".
From September 2016, according to the report, the application of Assad and his ally Russia of prohibited weapons along with chlorine that cluster and incendiary bombs – has increased significantly. Evidence of the use of chemical weapons, Russia is not found, the Commission notes, however, there is reason to suspect Moscow of using cluster bombs.
As regards chemical weapons, are documented several cases of its use. On 6 September, the chlorine bomb was dropped on the quarter es-Sukkari. Two people were killed, including 13-year-old girl, affected over 80 civilians. From 8 to 12 December chemical attacks have been the quarter of El Kalas; the first of these days is also al-Firdous, and from 8 till 10-e – Bustan al-Qasr. Reported 35 dead, including women and children, and about 30 injured.
In mid-February report about the chemical attacks by Assad on residential areas of Aleppo controlled by rebels, the UN introduced the Human Rights Watch. Human rights activists credibly established eight cases of chlorine from 17 November to 13 December 2016. Victims of attacks are at least nine civilians, including four children. About 200 civilians were injured.
As noted in the HRW, the painting "suggests that we are not dealing with the personal initiative of individual, out-of-control actors, and part of the overall military strategy of the occupation of the city".
Meanwhile, on Tuesday, the acting permanent representative of Russia to the UN, Peter Ilichev, together with Chinese Ambassador Liu Jieyi vetoed a draft security Council resolution on sanctions against Syria for three previously confirmed chemical attack.
Comments
comments