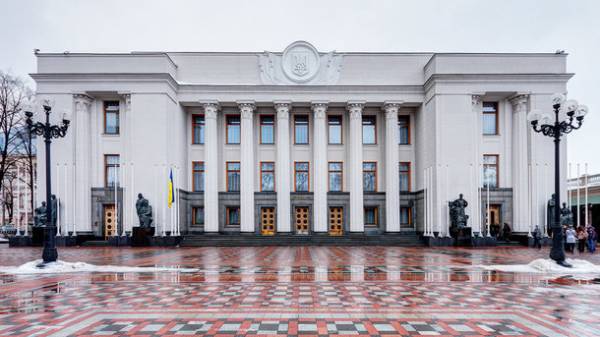 The increase in tariffs for industry will weaken the Ukrainian economy. This was stated by the heads of parliamentary committees, industry associations and large industrial enterprises, as well as experts in the parliamentary round table "the Impact of tariff policy on industry and the economy."
Among the major threats to the specialists called:
the rise in price of gas for industry by 22%;
the increase in the cost of non-standard connection to the grid several times;
the expected increase of tariffs for cargo rail transportation by 25%.
The Chairman of the Verkhovna Rada Committee on industrial policy and entrepreneurship Viktor Galasyuk urged to prevent printing resolution NKREKU about six-fold, according to experts, the increase in unit values of non-standard connection to the grid and to ensure the holding of the NEB investigation into this fraud.
The MP also stressed that to increase tariffs for cargo rail transportation by 25% today. "The increase is possible not earlier than in summer and much smaller percentage. Needs to be a compromise with industry associations – metallurgists, miners, farmers, etc.," explained Galasyuk.
He also suggested to involve the Ministry of economy and Finance Ministry for dialogue and the protection of the interests of the industry. "The activities of these ministries has broader tasks than the implementation of ProZorro, privatization or service cooperation with the IMF. Private industry should be the highest priority not only in words but in deeds," – said Galasyuk.
"Diagnosis is very simple – a monopoly in the markets. But the cure is very simple – competition. The higher the competition, the lower will be the price, the more transparent will work the markets and the better we live and work," – says the first Deputy Chairman of the Verkhovna Rada Committee on fuel and energy complex, nuclear policy and nuclear safety Oleksandr Dombrovsky.
Meanwhile, due to the poor performance of "Ukrzaliznytsia" (UZ) mining and metallurgical complex in the second half of 2016 has already suffered losses – nedobiraet about 3 million tons of steel. This was announced by the President AP "Ukrmetallurgprom" Alexander Kalenkov.
According to him, the cost structure of railway rate BONDS remains opaque.
"They tell us that rates are low, and in presentations to European investors indicated the profitability of cargo at 35 – 50%. Thus, using the monopoly position, the Railways subsidises passenger traffic", – says Kalenkov.
He stressed that in Ukraine, the tariff for transportation of gas is already higher than the price of gas in Russia.
In turn, farmers have proposed to include in the Supervisory Board of the OUSE of representatives of key industries. Wagons for their cargo in APK ready to build your own, subject to providing 30% discount on the tariff. In addition, the President "Ukrainian grain Association" Vladimir Klimenko reminded about the specifics of the sector and noted that the increase in tariffs until July 1, is for the industry is unacceptable.
The question of increasing the cost of non-standard accession to the grid – applies to any business – said the head of the Ukrainian Association of renewable energy, head of Energy sector Office of effective regulation Alexey Orzhel: "access to the infrastructure, created in Soviet times, should be an investment advantage of Ukraine. In fact, however inadequate the regulator's decision brings to a halt the reform of the energy industry."
Comments
comments