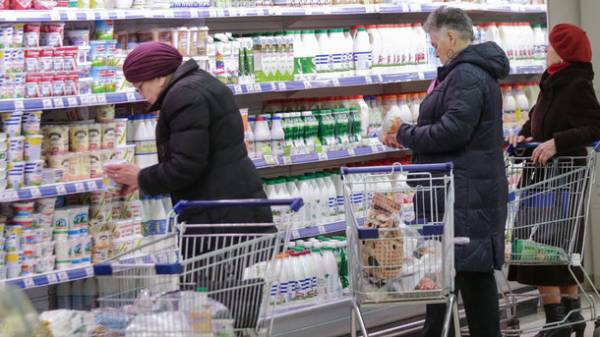 The deputies spoke about the return of price regulation for socially important food products, which was abolished by the Cabinet on 1 October 2016, submitted to the Parliament the draft law States that deregulation in October 2016 has led to a sharp rise in the price of eggs, cheap meat, sausages, dairy products, bread. Expert opinions about whether it is necessary to return the control of prices, divided.
WHY RETURN. According to one of the authors of the bill Yuriy Solod, the experiment of the Cabinet the abolition of price controls on soprodukta for 3 months and the extension of the abolition from 1 January 2017 for an indefinite period led to a sharp increase in prices. From the beginning, the eggs rose by 39.9%, or an average of 5.97 UAH/Dec., butter — 21.7%, or 23,91 UAH/kg, milk — by 18.4% or UAH 2.38/l "Is much higher than the average inflation rate in the country (in 2016 — 14%. — Ed.) says Malt. — Regulation for many years protected the population from impoverishment. Now this is not, as the government did not even offer compensation, for example, in the form of targeted food programs operating abroad". But traders against the return of regulation. "This will bring bureaucracy and did not really give. We have a large selection of products in all categories at competitive prices. For example, pasta for 7 UAH/kg, the milk fat content of 2,5% 11,5 UAH/l, meat and bone soup sets 2 varieties of regular promotions, sales," parries the top-Manager well-known retail chains Vladimir Molchanov.
EXPERTS. Among professionals of the market, there is no consensus in the question whether it is necessary again to do the controlled prices soprodukta. So economist Ivan Nikitchenko against: "There is a market that controls prices. By this logic, it is necessary to regulate prices and other socially important things, like housing, because not all can buy it. If you have suspicions about price fixing traders, this should do the Antimonopoly Committee, as in Western countries. But the mechanism of allowances worked not enough: in order to raise the cost of a product, shopping online wrote a justification for local authorities, and some bureaucrat decided: to authorize the increase or not, that is attended by corruption. Was to evade regulation, for example, a manufacturer produced sour cream 20% fat and 21%, or milk of 2.5% and 2.6%, prices are not regulated. It is not forbidden by law." And Director of the Association of retail suppliers Oleksiy Doroshenko, on the contrary, believes that a return to state regulation will restrain unjustified growth of prices on setproduct: "As a compromise, it is necessary to set tornadic 15% to 20% for food brands, for example, meat with bones, cheap boiled sausage, and to make a mark free for the products of the premium segment is cuts of meat, summer sausage, and so on. Let the rich pay for the poor."
Finally, the President Ukranalittsentra Alexander Ohrimenko said that state regulation of prices it is possible to restore without the new law, as it relates to the powers of the government. "If sitzgruppe goods will continue to rise, and informal talks with the business fail, the Cabinet may again tighten the screws, returning the regulation of the cost of a number of actuary. Although this is not a market method, but it can be used as indicative of caring for the poorest segments of the population", — said Okhrimenko us.
That regulate
According to regulations of Cabinet of Ministers No. 1548 of 1996 and No. 656 of 2007 was forbidden trade allowance above 15% for socially significant kinds of the foodstuffs. These included: flour, bread, simple recipes, pasta domestic production of non-solid varieties of wheat, cereals, sugar, beef, pork with bones, poultry meat in carcasses, sausages 1st grade (not higher), milk with 2.5% fat, sour cream 20% fat, butter fat content of 72%, cottage cheese fat content 9%, chicken eggs, sunflower oil. If you return sinegoryie, possibly cheaper acproduction 5-10%. Most of cheaper meat: pork with bones — 8-10 UAH/kg, or up to 68 to 70 UAH/kg, in chicken carcasses by 4-5 UAH/kg, or up to 45-47 UAH/kg.
Comments
comments