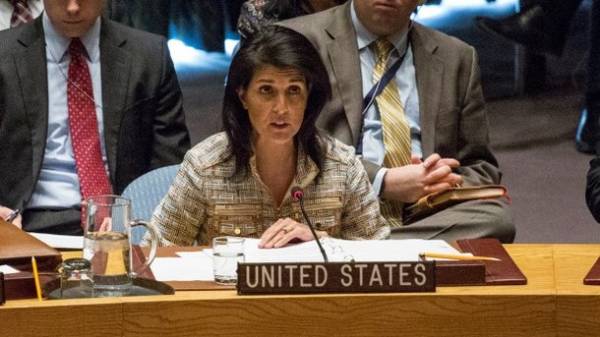 US calls on Russia to fulfill the conditions Minsk agreements, making relations between Washington and Moscow can improve, and can also be lifted sanctions against Russia if Crimea back to the Ukraine. This was at a meeting of the UN security Council on the issue of conflicts in Europe, said the U.S. permanent representative to the Organization, Nikki Haley, reports "UKRINFORM".
According to her, the American authorities urge Moscow to respect the sovereignty and territorial integrity of Ukraine.
"The United States believes it is possible to improve relations with Russia. In the end, we are fighting against common threats, but closer cooperation with Russia is impossible due to the security of our European friends and allies. For this reason, we continue to urge Russia to demonstrate commitment to peace through the full implementation of commitments under the Minsk agreements and stop its occupation of Crimea. USA and EU are United in the approach (relative to the condemnation of Russian aggression in Ukraine. – Ed.) and will maintain the sanctions as long as Moscow does not comply fully with its obligations", – said the U.S. permanent representative to the UN.
The diplomat stressed that sanctions against Russia over the Crimea will be prior to the moment when the Peninsula will not return to Ukraine.
She also condemned the escalation of the conflict, Pro-Russian militants in Avdeyevka and the recognition of the passports of the so-called "DNR" and "LNR".
"Russia tried to prevent the changes, which require (on the Maidan. – Ed.) the Ukrainian people. Russia occupied the Crimea and tried to Annex part of the territory of Ukraine. These actions of the United States does not recognize. Destruction in the village of Avdiivka, show the consequences of Russia's intervention in Ukraine. Russia's recognition and issuance of passports and other illegal documents separatists supported by Russia in Lugansk and Donetsk, is yet another challenge to efforts to maintain peace in the East of Ukraine," said Haley.
As reported by press Secretary of the President of the United States Sean Spicer, Donald trump will try to make a "deal" with Russia to combat terrorism and economic issues.
Comments
comments