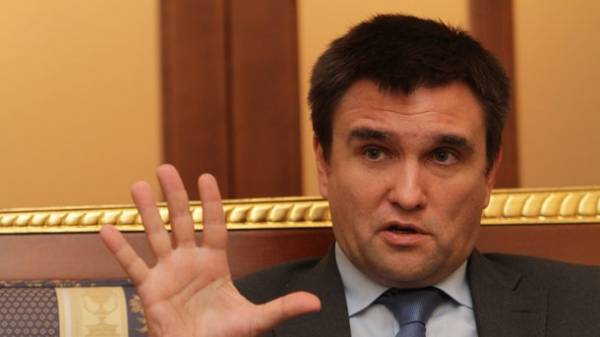 The Minister of foreign Affairs of Ukraine Pavlo Klimkin believes that the UN should not fear a more proactive approach in the settlement of the conflict. He stated in open debate at the Ministerial level under the theme "Maintenance of international peace and security: conflict in Europe."
"The UN should not shun a more proactive approach to conflict resolution and management. The organization is only as strong as wish its members, in this regard, in order to take the necessary action, the UN needs the support and political will of their members … Ukraine suffered from direct military aggression, the Crimea and part of Donbass is now illegally occupied," – said Klimkin.
According to the head of the Ukrainian foreign Ministry, the UN could increase its political presence to resolve military conflict. The Minister also added that the UN Secretary-General should draw the attention of member countries of the UN on existing conflicts.
The Minister said that if we do not take a proper world response, the crisis could lead to the fact that the UN can be difficult to comply with the obligation to rid the next generations from war.
"We need that security in Europe was the center of attention of the UN security Council. If we do not take response measures, the crisis in Europe, which is rapidly developing, may lead to the fact that it will be difficult to perform one of the most important obligations of members of the UN, namely to save future generations from war," – said Klimkin.
The head of the Ukrainian foreign Ministry informed that since the beginning of the Russian aggression in Donbas and in the Crimea, killed more than 10 thousand people, more than 22 thousand were injured.
"They have become a gray area, marred by injustice, repression and terror", – the Minister noted.
He also noted that the occupation authorities of the Crimea trying to destroy the identity of Ukrainians and Crimean Tatars.
As reported, Ukraine from February 1, began to chair the UN security Council. It is planned under the presidency of Ukraine, except for the issue of the protection of critical infrastructure, February 21 to consider the issue of conflict resolution in Europe.
Comments
comments