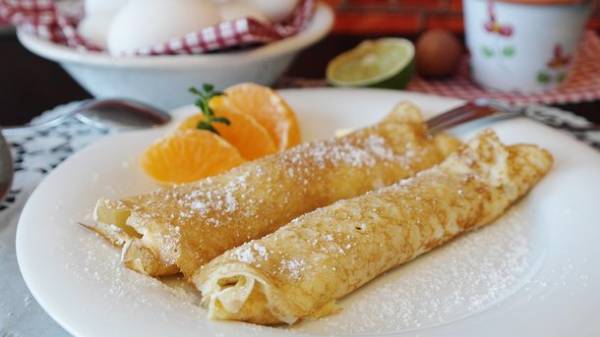 From 20 to 26 February we celebrate Carnival. Every day of the week has its own name and value.
According to tradition, on Wednesday, called the gourmand-in-law came to the mother on the pancakes that she baked. On this day, mother-in-law showed affection for the husband of his daughter.
If you have decided to bake pancakes, the website "Today" have selected for you the TOP 5 delicious toppings.
Curd with raisins
Perhaps, this is the classic filling. For its preparation you need to mix cottage cheese with egg yolk, then add the steamed raisins. You can also add nuts and a little vanilla.
Banana filling
Peel the bananas carefully and remember them with a fork. Then add a little honey and coconut shavings.
See also: Carnival 2017: customs and traditions of the holiday
This stuffing can be served both cold and warm.
Chicken with mushrooms
Take chicken and boil it in salted water, then chop two onions and some mushrooms. All the ingredients should be fried separately, then mix and add salt and pepper to taste.
Ham and cheese
For such filling should cut the ham into small cubes and mix it with grated cheese. To cheese is melted and slightly stretched, ready to fry pancakes for a few minutes in the pan.
Apple and honey filling
For the sweet filling you will need apples, honey and cinnamon. For starters, the apples should be grated on a grater or cut into small pieces, add a little cinnamon and honey and stew on a slow fire.
This stuffing can be served as warm and cold.
Earlier, the website "Today" was the TOP 7 recipes for pancakes every day.
Comments
comments