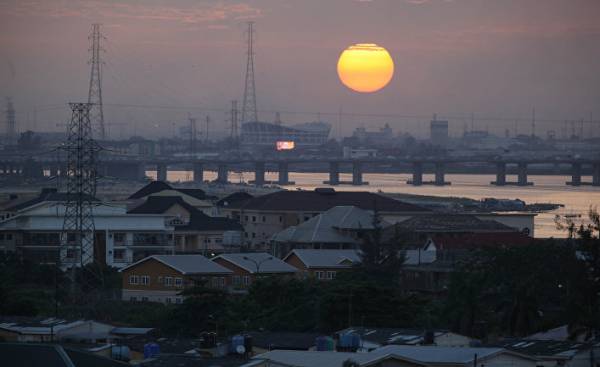 Nigeria a few decades ago was considered one of the richest countries in West Africa thanks to the oil deposits. However, periodic military coups has led to a massive stratification of society into a handful of super-rich and impoverished population.
About how actually to live in Nigeria, and also about the features of African life, portal 34travel.me said the Belarusian Sasha, Papchenko.
The girl, who hails from Minsk, was driving to the port city of Lagos. She experienced all the "joys" of Lagos life.
Note: hereinafter, the story in the first person.
The first time I went to Africa five years ago in Gambia. Flew from London, where I interned and lived for some time. In London a lot of ads about tours to Africa, it is easy to buy tickets and plan a vacation. Later turned out to be in Tanzania and Kenya. I wanted to come back again.
After on couchsurfing I found a volunteer organization in Ghana. Local guy for many years looking for sponsors, accepts volunteers, helps to find a school or centre to work with children. In my case it was a pre-school center in a poor neighborhood in Accra the capital of Ghana. A small class under a canopy in the street right through the "wall" people walk and cars drive. There children studied the teacher while the parents work. Taught arithmetic, English, drawing. A few months later I every day went to the centre, it was strange, but interesting.
Work
In October 2015, I saw an ad that looking for a person to work in Nigeria, moved, and took me. It was a Russian-Ukrainian media company with news sites in developing countries. Now I work for a Nigerian company that develops software for hotels. Engaged in business development and sales.
Nigeria fully hooked on oil, so now a downturn in the economy. I arrived just as the crisis began. I was told that such a poor year, as in 2016, thirty years was not. The crisis affects all. Naira, the local currency is decreasing. If you have a salary in dollars or other currency, just makes no sense to work.
Housing
In Ghana I had no problem finding housing. The fact that in London, many immigrants from former colonies, especially West Africa, where I had African friends. So I lived with friends who let me look after your apartment while you are in London.
In General, in Africa they are quite expensive. Now the cheapest hotel in Nigeria will cost $ 30 per day. Maybe it's not such big money, but then in Ghana, I was almost three months, for me that would be impossible.
Nigeria now housing I provided by the employer. This is a spacious apartment in one of the best areas of the city with view of the Bay from the huge balcony. To rent the visitor on their own — quite expensive. The main problem is that usually the tenant paid a year in advance. For decent housing annual rent usually starts from $ 10,000 + utilities, which depend on the location of the apartment and such seemingly small things, like the kind used in home electricity (municipal or private electrical generator), Central water supply or importation of water to your home in special tanks. Of course, there is cheaper housing, but it is located shall be away from the business center of the city, it is inconvenient to get to, and there is a risk that you will often be left without electricity and water.
Life
I was lucky to come here for work, so all the hassle of home appliance go past me. To open a Bank account, a foreigner can providing a document of his employment at a local company, to connect the phone by providing only a passport at any of the offices of mobile operators, recharge mobile — bought a scratch card that are sold here on every corner.
Ill once here, I immediately thought of all the benefits of our free healthcare. Even in paid clinics we have General blood analysis will cost less than $ 25. In case of serious ailments that require a survey, you need another house to take care of medical insurance. And so, in the clinics can meet here not only Russian-speaking Nigerian professionals, but also Russian, Ukrainian doctors who came to work or left for family reasons.
Acclimatization to me, it was almost unnoticeable. Only the first day was physically difficult, when after hours of flight, arriving at the hotel, I quickly took a shower and immediately went to a meeting at the other end of the city.
The city
Since childhood I imagined that Africa is like the countryside — villages, small towns. In fact, the city is very large, probably due to the fact that mostly one-storey.
Lagos — huge, the most populous city in Africa: nearly 20 million people, although official count is 18 million. It consists of different districts, each with its own name. A business part with offices, business centers, high-rise buildings, many quite expensive restaurants, clubs, museums are the districts of Victoria Island and Ikoyi. The most prestigious and home to local millionaires and billionaires — Banana Island. Everything else — so typical of Africa with a bunch of little shops, markets, one-storey houses, shopping centers, usually in their name have the word "Plaza". There are a lot of cars, traffic, especially during rush hour, very busy, you can stand in traffic for a few hours that would have taken twenty minutes in normal conditions.
After our "crystal clear" Belarus is very hard to get used to the garbage lying on the roadside. Although the main streets are clean, also Nigerians good care of their homes, every day, sweep the floors, but on the street, no one oversees, no garbage cans.
The standard of living
The first time was surprised by the presence of fancy restaurants, cool gadgets. Even in Switzerland I have not seen so many expensive cars, as here. However, as with any developing country, the difference between the richest and the poorest is huge. Statistics read that the middle class in Nigeria is 3%. That is, the majority of the population is simply poor. Those who live in Lagos and Abuja (the capital) is still a normal life, but in the same city is committed many people from the villages, usually unable to find work in the big city, and remain on the street.
High prices of food in supermarkets. If you buy food at the local market is cheaper. Public transport is more or less affordable for the locals, but in most cars hardly ever went.
What I didn't expect to see so many Arabs, especially Lebanese. Here is the whole dynasty, a third-fourth generation of the family in Nigeria. Some time ago came of their fathers, grandfathers, engaged in trade, and left. Many of them already consider themselves Nigerians. Same with the Indians. Especially a lot of Indians in East Africa, yet the Indian ocean has long been a trading route between the two continents.
Was surprised by the level of "luxury life", which for me, an ordinary Belarusian girls, were unavailable. Here it is also not available to ordinary Nigerians, but for expats opened many doors. In this international get-together can be a lot of someone to meet. Then I met the son of the richest man in Nigeria, a Lebanese. It is unlikely that I would be somewhere else could interfere with these oligarchs.
Security
When I was in the same Ghana, Kenya, Tanzania, she walked the streets. They tried, of course, when it's dark, not much to go, but it happens. Once I cut the bag on the market, but did not have time to get anything. In Nigeria, Nigerians themselves do not advise to walk alone on the street even during the day. Even for a short distance you'll take a cab. Uber is my salvation here — no need to haggle as usual, because I'm white and all prices immediately rise.
Many here are afraid of kidnapping. All I was afraid that every second of a wealthy Nigerian or a foreigner — someone was kidnapped. Though all eventually resolved safely, had to pay a lot of money. Although just off the street usually are kidnapped, often find out through someone daily route person. In Northern Nigeria, Boko Haram controls territory in two million people constantly terrorizing the local population, steal women and rape.
In Lagos last attack was 10 years ago. More or less calm, but still try or someone to be or acquaintances to know where you went. Walk much resemble. Sidewalks are few, only the roadway, on the sides sit the merchants, the go local. Driving level crazy. I don't know how here it is possible to drive herself, no one will miss, everyone is in a hurry and want to be the first.
Communication
While volunteering in Africa, I was almost alone all the time. In Ghana it is not a problem, there is no such crime in Nigeria, so the white walk the streets safely. Of course, the white man, especially a white woman, all looking, wanting to touch, to communicate. The first two weeks it's funny, you also say hi to everyone. Then I was angry. This is a period when you're new to discover, understand, experience new emotions. I asked myself: "why are you angry? They are kind, want to make friends".
When I was in Ghana, the expats have not seen, from friends and acquaintances, I only had a Ghanaian. White went by car as I drive now, and I moved on public transport. But now local besides work, very little contact. As it turns out, perhaps because of the difference of cultures, mentalities. My best friend here is from Belgium, but originally from Congo. In General, in Lagos you can meet people from completely different parts of the world. There are a lot of young, beautiful Russian, Ukrainian women, I know a couple of the Belarusian — they are mainly married to a Lebanese, or Nigerians.
Africans are kind, smile a lot, always asks how you're doing. Nigerians sometimes pluck. At first it embarrassed me. When I first went to Belarus, came back to me a few people came up and asked: "And you has been for me?" And even when leaving: "You do something to me bring about me don't forget."
Leisure
My most painful issue. Sometimes at home I do yoga, swim in the pool, go to the Mall, reading. Here life is mostly work. Very few cultural events, while there are museums, contemporary art galleries, cafes, restaurants. Used to go to clubs, but it's here more as a platform for Dating, chat with someone new. There is a cinema in which nothing really show. The local film industry is called Nollywood and churns out films about local life, often in tribal languages. Quality movies bit.
On weekends I try to go to the beach, however, is not particularly good for swimming, if you're not a good swimmer, because it's the ocean, the waves cover her head. There are coves where you can swim at your leisure. But recently I was told that one of them found decapitated body. The fact that there was still practiced black magic, religion, voodoo. Perhaps it was a ritual murder. In addition, in sparsely populated areas on the coast you can meet the inhabitants of nearby villages that use the beach as a public toilet…
There are no friends like home, with whom you can spend hours talking. On the street there just take very quickly the sun sets at 7 in the morning dawn, and at 7pm it's already dark.
Despite this difference from the familiar life at home, in Belarus and here in Africa, I'm happy to be in Nigeria, live on the shores of the Gulf of Guinea in the warmth and the sun. To learn a new culture, different people, different traditions and ways of life. Never regretted my decision to move, because every day I discover something new and never cease to be amazed at the diversity of this world.
Comments
comments